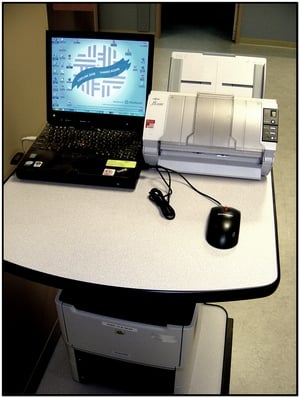 When people say that "time is money," they're not just talking about time you could be putting into your business. They're also talking about creating a streamlined business by increasing efficiency. Think about the methods you're currently using for your business. Chances are, you're aware that there's some room for improvement, but there may also be some tweaks you could implement that you've not taken advantage of, simply because you're not aware of them.
If you're a manager in a warehouse or other large retail facility, keeping your data together and active is a major part of your business. Luckily, with the advent of the laptop, that's easier than ever. But when trying to tote it place to place and find an area to set it up with power, it can be difficult, especially in a warehouse setting or a small room. That's why laptop computer carts with power empower all sorts of professionals, streamlining their business practices and eliminating headaches.
In essence, laptop computer carts with power supplies are a mobile workstation, meaning that you can take care of your business anywhere, without having to worry about your laptop running out of power or having no place to store it. It also means no pesky cords that can be extremely problematic in warehouses and large retail facilities, considering the amount of business going on.
Laptop computer carts with power are a tool that does more than just allow you to do business on the go, anywhere in your facility. Of course, that functionality is important, as it lets you use your wireless facility to its full potential, but it's also a way for you to connect with your employees while saving space. Laptop computer carts with power bring you to the floor, where you can do the most work, rather than holing you up in a corner.

Being able to connect with your employees increases their productivity and allows you to understand what's happening on the floor. This means quicker response times to crises and easy correction of problems you might not have been aware of. Laptop computer carts with power also save space. Rather than having to dedicate part of your warehouse or retail area to an office, you can use that space for more productive means.
Laptop computer carts with power also increase your productivity, by putting everything you need in one place. You'll have eFax capability, printers, and all the data on your laptop at your fingers, no matter where you are. Even better, implementing laptop computer carts with power is an easy fix, unlike many other processes to help you streamline your business. Setting them up is easy, and you can see improvement the very same day!

Another bonus of laptop computer carts with power is that unlike a lot of other setups, they don't require additional purchases. One of the major barriers to implementing new systems in a business is the initial cost, but laptop computer carts with power integrate with your current hardware, meaning you can use your laptop with your software.

Having an effective business with productive and happy employees is all about taking advantage of the technology available to you, especially in the modern world. Laptop computer carts with power mean that you can be where you need to be, rather than being stuck in the office, losing time. And as we said before, time is money.
The most efficient laptop computer cart with power on wheels can be configured as a workstation easily. Contact us so that we can take care of you personally or Configure your own laptop computer workstation here: