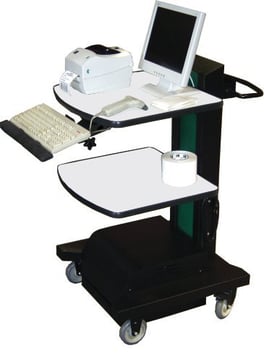 A mobile powered workstation cart is a technology that works in your favor. It enables automatic ID transactions to be completely mobile. This saves on the cost of movement required for printing labels since this is easily done anywhere in your business premises. This wireless technology integrates power supply and then maneuvers computers, printers and scanners wherever they are. When you capitalize on the auto-id technologies, you are able to establish mobile on-demand label printing stations and mobile shipping/receiving stations.
The most conspicuous advantage that comes with using a mobile workstation cart is the fact that inefficiencies resulting from wasted steps to the printer, wrong inventory counts, inaccurate labeling, delays, process errors due to the manual system use and incorrect shipment are eliminated. These are usually the main challenges including lost productivity that occur when you do not use an on-demand label printing in your business.
The area in which a mobile powered workstation cart comes in handy in your business includes applications based on:

Shipping, receiving and docking Managing inventories

Tracking Assets

Fulfilling and picking orders

Counting cycles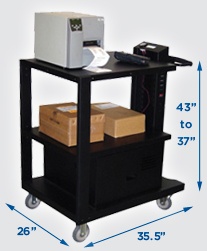 Why choose a mobile powered workstation cart?
This is a question that you are to as an interested businessperson in revolutionizing your business. The advantages are numerous and as reported by those who have tried it before, results are perfect. Reasons to choose a mobile workstation cart include:
1. Time and labor saving
This results from the lessening of foot travel and paper work. Most of the time, employees in your business waste time moving back and forth to the desk bound printer and computer while having any conversations en-route. This they do because they have to feed information regularly into the system for the purposes of developing labels. They often use previous recordings or rely on memory, a fact that leads to numerous errors. The time spent in the movements and correction of mistakes can cost you a lot. For this reason therefore, you should invest in a mobile powered workstation if you want to increase productivity by saving on time.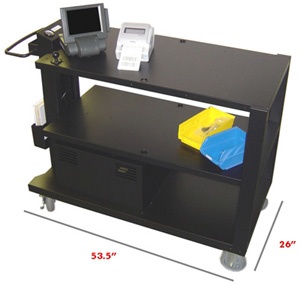 2. Improving employee morale
When your employees feel that you are wasting their time, there is a possibility that they will be less productive. The opposite is however true, employees are motivated when they see that there work is efficiently being done. The use of mobile powered workstation carts is a boost towards this achievement. You should choose a system with adjustable shelves to increase and stabilize work surfaces. This way, employees will have all the needed facilities for facilitate work delivery. The workstation should be compact and easy to push .It should also large easy to grip handles with swivel casters that are top quality. The advantage is that the workstation has no chords since it is wireless and as a result no accidents occur.
3. Versatile
Making use of a mobile powered workstation cart is an advantage to the improvement of business versatility. The more your workstation can accomplish, the more your business achieves. Check for the weight capacity of each shelf .your workstation must have the capacity to power your business needs. This is in the sense that it should be integrated with the devices that you intend to run in your business. Your mobile powered workstation should be designed to accept different accessories for your application. This includes shelves, keyboard trays, scanner holders and laptop holders among others.
You should remember that the mobile powered workstation cart you choose reflects your business.
Configure your own workstation here: