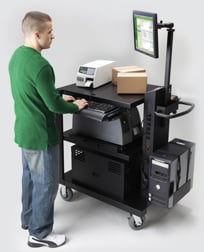 Converting a stationary workplace to a mobile workstation one is the easiest, most economical way to increase productivity of your current warehouse workers and infrastructure.
Benefits of "going mobile" with a mobile workstation cart which includes a power pack include:
Fewer footsteps to complete tasks
Improved accuracy and precision of task execution
Reduced number of workstations required in a facility
Higher volumes and throughput for existing facilities and equipment
On the surface, moving operations to a mobile environment where a powered cart eliminates steps appears to be an obvious solution. Even so, we provide an ROI calculator and help you to configure your mobile workstation to maximize ROI. There are benefits beyond the eliminating steps which include:
Generating Productivity - Achieve the same amount of volume with fewer pieces of equipment (i.e. printers, computers, etc.) by converting to mobile workstations.

Instant Gratification - Quickly obtain measurable productivity gains without months of planning and implementation. A mobile workstation is delivered and can be on the floor the same day.

Improving Processes - The Portable Power System allows you to fully leverage your wireless facility by cutting the power cords and letting your workstations move to where they are needed - with your people.

Enabling People - Operators & managers now have access to data and real-time information anywhere in the facility because they can take their workstation with them.

No Additional Purchases - Integrates with your current hardware and software.
Configure your mobile workstation here.
Not sure what type of workstation your business needs? Use our interactive quick-reference chart to explore options most commonly used in your industry.
In this video you will see an example of one company which had a bottleneck and able to implement a solution which eliminated the bottleneck in a receiving department. As a result, this company used 60% less labor and was able to process in-bound materials faster.
Configuring the mobile workstation carts includes the following:
EQUIPMENT: Identify all the standard equipment used at your current work stations.
ENVIRONMENT: Indicate the type of workplace environment your equipment is supporting.
ENERGY NEEDS: Indicate what is the typical length of a workday on your workstations.
Note the number of workstations are you currently operating.
Select your industry
Are you interested in learning how to maximize the benefits of a mobile workstation?