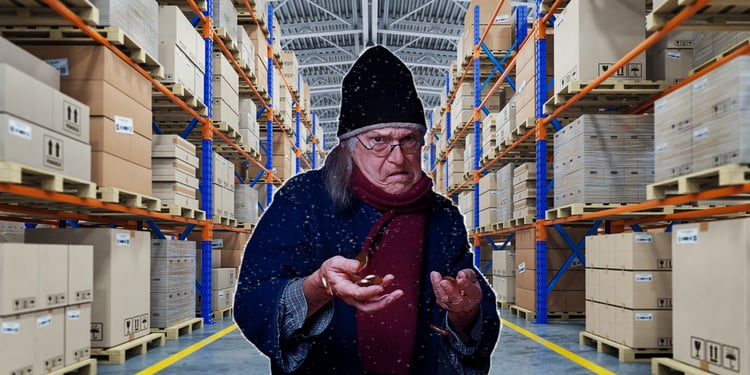 It was the night before Christmas, when all through the warehouse, all the forklifts were whirling, turning fulfillment into a madhouse; Children's stockings were hung, and treats set out for Santa with care, trusting that Old St. Nick, soon would be there; But warehouses are struggling, with booming eCommerce causing stress; Fortunately, automated warehouse solutions, help businesses get more done with less.
We may not be great at poetry, but we do know how to spot when Santa might face a few challenges in fulfilling his commitments. Technology changes everything, including Christmas. Whether it's finding ways to ease the seasonal labor crunch or making order fulfillment more efficient and error-free, there is probably a technology solution to address the ongoing challenges.
In the classic "A Christmas Carol" story, Ebenezer Scrooge gets a visit from the ghosts of Christmas Past, Present, and Future on a journey that transforms him into a kinder, gentler man. In the spirit of the holiday season, let's take our own journey with a visit from the "spirits" of the warehouse of the past, present, and future to see how solutions are evolving to handle even the most challenging Christmas lists.
The "Ghost" of Warehouse Past
Warehousing has been a reality for thousands of years since humans began hunting and gathering food and necessities. In more modern times, warehouse systems saw significant improvement with the advent of railroads and various means of mass production. Suddenly, businesses could afford to ship in massive volumes of raw materials and goods and store them until needed.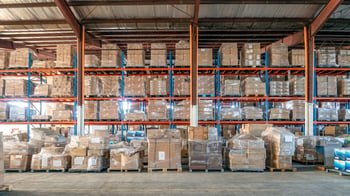 In the 1920s, pallet racks were developed, which allowed for the storing of goods vertically. Also, during this period, forklifts were developed to move pallets. In 1971, Walmart opened its first distribution center, which revolutionized retailers storing materials at centralized locations and getting products to customers faster. In 1974, the first UPC barcode was used, helping businesses track inventory easier without using checklists. And in 1975, J.C. Penney began using the first warehouse management system (WMS), effectively launching the modern warehouse management era.
One of the things you'll probably notice about the warehouse of the past is all the workers present. They're everywhere! From the pickers and packers wearing different colored high-visibility vests to the various supervisors, warehouses needed a lot of people to keep products moving in the right direction and keep track of what was in the building.
The "Ghost" of Warehouse Present
Whether you're in the middle of peak holiday season or dealing with orders mid-summer, one thing you'll notice about today's warehouses is that they are much less labor-intensive and much more efficient. The warehouse industry has achieved this by implementing a variety of automated warehouse solutions, which free workers from the burden of walking endlessly up and down warehouse aisles, climbing dangerous ladders, and performing boring or injury-producing repetitive tasks. Some of the smart solutions you're likely to encounter in the warehouse of the present include:
Warehouse Management Systems
Modern warehouse management systems have taken what JCPenney was doing several steps further. The solutions today's warehouses are using have generated efficiencies and made many warehouse operations faster. For example, a WMS reduces the need for workers to complete paper forms or enter data at any point during the fulfillment process.
Scanning Technologies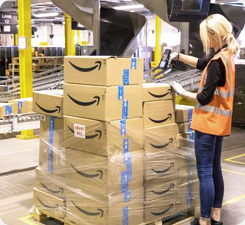 Several decades ago, workers had to spend as much time recording tasks as actually moving products from one place to another. Today, many warehouses use RFID tags and barcode scanning, which removes many of those administrative tasks. Scanning technology injects visibility into the entire process. Particularly with RFID, this is something that can happen automatically, without the need for human intervention.
Mobile Powered Carts
Mobile powered carts are another common solution found in today's warehouses. These versatile mobile workstations can be moved anywhere within the warehouse, saving workers time and improving efficiency. In fact, these solutions can double productivity in the warehouse.
Voice Technology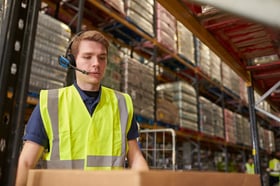 By using voice technology, warehouse workers can reduce repetitive trips to gather instructions and eliminate the need to look at a clipboard or display for information. Voice technology can describe to workers where their next picking order is located, allowing them to get more done in less time.
Pick-to-Light Conveyors
Order picking is one of the most labor-intensive warehouse processes. And it can be downright frantic during the busy holiday season. Many warehouses today have implemented pick-to-light systems, which use easy-to-see lights to direct order pickers to locations in the warehouse.
The combination of these systems helps turn the modern warehouse team into a happier one. They also improve the customer experience (CX) and boost the organization's overall results.
The "Ghost" of Warehouse Future
The warehouse of the present seems pretty impressive compared to the one of the past. But what does the future hold for this industry? Fortunately, the ghost of warehouse future gives us a few hints.
Expanding WMS Integrations
While most modern warehouses are using a WMS, not all are taking full advantage of the system's capabilities. In the future, these solutions will be the foundation and driving force behind warehouse systems automation and connectivity.
A WMS can connect all facets of warehouse automation, including robotics, drones, and other wireless solutions. Using one of these systems to the fullest, a warehouse can improve efficiency and visibility.
AI for Predictive Decision Making
The warehouse of the future is going to rely heavily on artificial intelligence (AI) to provide businesses with the best possible insights and performance. For example, AI can tell your business, based on industry trends, when certain toys are going to run out of stock during the holiday season and pre-emptively re-order them at the right time based on other supply chain factors. These types of predictive models can also help manage labor, machinery, and transportation route for order fulfillment.
Full-Scale Automation and Robotics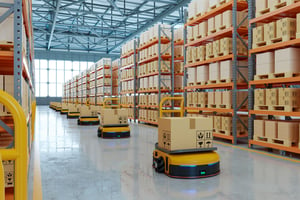 There are already robots in some of today's warehouses. But the warehouse of the future is going to rely more heavily on robotics than human laborers for repetitive tasks like inventory control, picking, and packing.
Within the next decade or two, expect to see more dedicated and multi-functioning robots as viable options to store and stage products. Robots will interact with sensor technology for everything from loading and unloading trucks to routine equipment maintenance and repair.
The current warehousing industry is constantly evolving, and it most certainly will continue to produce advances that make processes safer, more efficient, and even more sustainable. Whether you are in the midst of the holiday season or thinking ahead to next year's peak season, your best approach is to remain at the forefront of this industry by learning about and implementing various automated warehouse solutions.