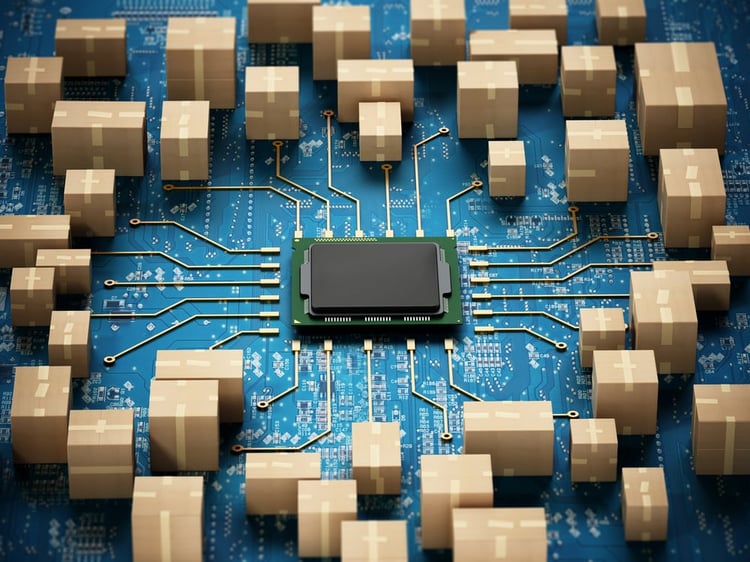 Technology is constantly transforming the way we live and work. The growth of automation and various technological advances over the past several decades has been nothing short of astounding.
Warehouses were traditional business environments until recently. Now, they have begun to benefit immeasurably from technology that boosts efficiency, productivity, safety, and profits. And what was revolutionary just a few years ago is nothing compared to what we are seeing today. Here are some of the 2023 tech trends in warehouse management so you can begin making plans for the coming year and beyond.
Cloud Computing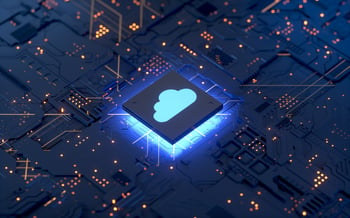 Cloud-based warehouse management systems (WMS) require no in-house IT or infrastructure for maintenance and have become increasingly popular in the logistics industry. These solutions provide a variety of benefits, including:
Unlimited computing power

Increased automating capabilities

Rapid implementation

Simple integration with other systems

Centralized data accessibility

Increased connectivity with IoT devices
Cloud computing is a growing technology trend because it saves warehouses money and is completely scalable. For example, if you have mobile computer workstations in your warehouse, they can be connected to the cloud easily, and all work accomplished is saved instantly. Anyone who needs access to that data will be able to see it in real-time.
Warehouse Simulation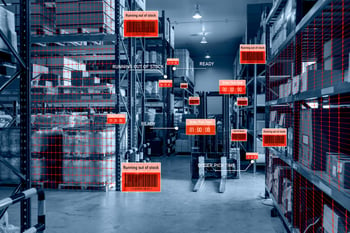 When your warehouse design isn't optimized, or its processes aren't as efficient as they could be, what's the best way to improve these issues? It would be costly to do this through trial and error, where you make a series of changes to see whether they provide the desired benefits. Many warehouses are now using warehouse simulation technology to test and design new systems, processes, and products virtually before implementing them in the real world. This is also referred to as "digital twins."
Using a digital twin, a warehouse uses a virtual prototype to design, validate, and monitor a process or object and detect any issues before it is reproduced physically. Using tools like cloud computing, machine learning, and AI, warehouses can use digital twins to simulate:
Delivering orders to customers in the shortest time possible

Creating automated picking and packing processes

Optimizing the warehouse layout

Making the warehouse safer with machinery
Using warehouse simulation, your business can reduce errors, increase productivity, and have better control over its operations.
Warehouse Automation
The dramatic increase in eCommerce business coupled with continued labor issues has promoted more logistics businesses to invest in automation solutions. In fact, the growth rate in this market through 2026 is expected to be about 14% to a value of $30 billion. Here are just a few of the major trends in warehouse automation:
1. Robotics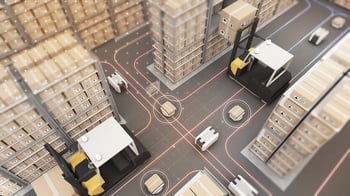 More warehouses are investing in autonomous solutions to either replace to supplement human workers. Some examples include autonomous mobile robots (AMR) and automated guided vehicles (AGV). These solutions can assist with loading and unloading freight, picking and packing functions, and other repetitive warehouse operations, such as cleaning.
2. Drones
While we aren't seeing drones making widespread deliveries yet, they are being used in some warehouses. Drones can be used to keep track of inventory and other warehouse materials.
3. RFID Tags
RFID tags can store massive amounts of data and integrate with warehouse management systems to enhance your inventory management and order fulfillment processes. Additionally, active RFID tags make it easier to track items, which provides greater visibility throughout the supply chain.
4. Wearables
Using a combination of warehouse management systems, RFID tags, and IoT technology, warehouse workers can use wearable devices, like headsets, to improve the picking and packing process. These devices can give workers verbal instructions, which improves productivity and reduces the use of paper.
Green Logistics
One of the top agenda items of many brands today is to be more environmentally friendly. Whether your business is established or considered a startup, it's equally important that sustainability is on the radar due to various regulatory and consumer pressures.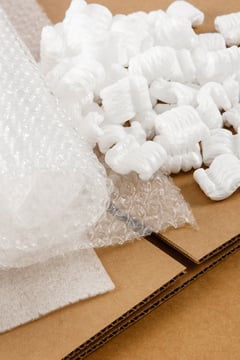 Becoming a sustainable warehouse involves much more than just committing to using earth-friendly packaging and reducing waste.
Technology has become key for modern-day "smart" warehouses to reduce their carbon footprint and minimize their overall impact on the environment. For example, using Internet of Things (IoT) technologies, warehouses can get real-time data about energy use from sensors. Using this information, the business can optimize processes to become more sustainable.
Going paperless is another way warehouses are saving the environment and improving working conditions for employees. Using mobile computer workstations throughout the warehouse combined with RFID tags, workers can ditch the paper checklists and save a ton of trees.
Predictive and Prescriptive Analytics
The ongoing supply chain challenges represent a great deal of risk for logistics businesses. At the same time, there may be unrealized opportunities in an increasingly volatile market. Warehouses are now leveraging predictive and prescriptive analytics to analyze large quantities of information to identify patterns revealing useful information for improving business decisions.
Data can be "mined" from a variety of sources. Then, using machine learning and artificial intelligence, that information can be filtered and analyzed to turn it into valuable knowledge about things like predicting demand during peak season, identifying and avoiding supply chain bottlenecks, and detecting and combatting fraud.
With so many tech trends in warehouse management that can get you ahead in your business, it may be hard to focus on all of them at once. Fortunately, you can choose to tackle the ones you believe will deliver the best advantages and help you serve your clients' needs.
No matter which warehouse trends you choose to prioritize, having a strategic partner you can trust can help you be more successful. At Newcastle Systems, we have years of experience in helping clients implement and maximize top-rated mobile computer workstations that increase productivity — from day one.