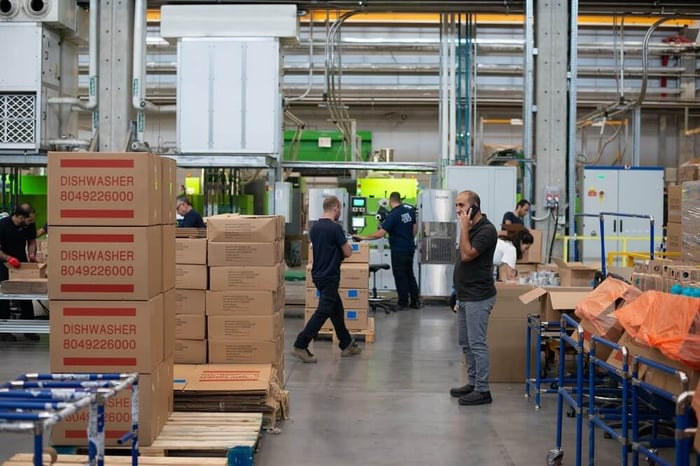 How has your business responded to the rapid changes in the distribution and logistics industry this year? Chances are that the rapid evolution of your processes and how you supported them are not just a band-aid for making it through to 2021, but the blueprint for your current and future facilities well beyond this crisis and into the future.
Consumer's Have Changed, For Good.
A survey by Voxware in June designed to gauge how holiday shopping behavior may be altered by concerns over COVID-19 found responses that indicate the potential for even greater strain on Distribution Operations than in a typical year. Of the 500 respondents polled:
51% expect to begin holiday shopping earlier than normal this year.

57% plan to have more gifts shipped directly to recipients than last year.

76% intend to purchase more than half of their gifts online.

62% plan to purchase more stocking stuffers and last-minute gifts online.
The macro level numbers tell the same story too. Data from the U.S. Department of Commerce compiled by Digital Commerce 360 shows Ecommerce Sales growing over 30% in the first half of 2020 versus 2019. Perhaps surprisingly, TOTAL retail sales grew by 4% as well. The spike for Q2 alone was 44% versus 2020, and while the rate of growth has slowed in Q3, the growth beyond 2019 is still far beyond any standard growth forecast.
And while the pandemic has brought on a long list of national retail chains filing for bankruptcy, others have leaned into Ecommerce and now curbside pickup as a survival strategy with nearly half of the retailers in the Digital Commerce 360 Top 500 list offering it by the end of Q2.
Nine months into one of the most unusual and challenging years for any business, it is now a fact that nearly EVERYONE is an "Omnichannel" marketer and distributor. But that's not the ONLY challenge facing the Distribution Center.
COVID Makes Everything Complicated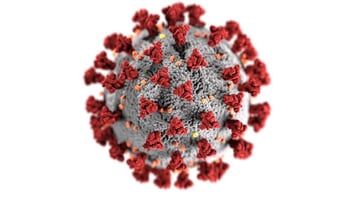 The challenges for many facilities until now and those for the holiday season are on different levels of complexity. In Spring, facilities were faced with challenges like shifting from retail distribution to direct customer fulfillment (or finding a way to manage a hybrid model) and keeping people safe from an entirely different workplace hazard. But now? It's not enough to coordinate multiple items and orders to be delivered to the same customer ordering them, but now they are required to take multiple orders from the same customer and send them to different addresses – along with the different treatment provided for gifts. And the stakes for safety are still rising. Facilities will be employing more people, and those people will be indoors on duty AND off duty as winter curtails outdoor activities.
The Changes You Made in 2020 ARE Permanent
Chances are you have probably made a lot of the changes below this year to your processes, training, workflow, equipment, software and more as part of your efforts to keep up with demand AND keep everyone safe: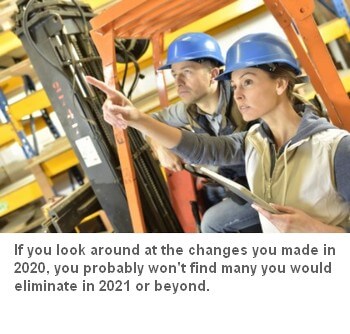 Creating or expanding direct-to-consumer shipping options.

Creating or expanding a Returns area with related processes (online return rates average as high as 22% versus 10% for in-store purchases).

Re-designing picking processes, racking and related equipment to allow for picking both cases or single units

Kitting of multiple products that are meant to be shipped together

New sorting processes that bring items from the same order together for packing

New facilities to accommodate the growth, or to separate different processes that previously did not warrant their own space

Additional shipping partners to accommodate the larger range of products going to a wider geography with more options, more frequently.

All the equipment needed to accommodate the new processes – additional label printers, carts, racking, etc.

And finally, all the safety-related equipment that is new from 2020.
If you take a walk around your facility and look at all the changes you made this year that were initiated as a result of the crisis, just how many of them would you roll back IF and WHEN the crisis is deemed to be over?
The reality? Very few.
Your Focus for 2021
If your leadership is thinking ahead to 2021 and beyond (hint: they should be by now), then they are probably recognizing a few aspects of the "new normal" we keep hearing about:
Consumers will never go back to in-store experiences at the volumes prior to 2020

"Omnichannel" marketing and fulfillment is now a reality for any business expecting to be around next year.

"Flexibility" will be a key element of successful and efficient Distribution Centers going forward as they will need to adapt to variable demand over seasons between retail and direct order models. Your own in-house DC will need to take some lessons from the 3PLs in regards to being nimble and adaptive.
Finally, if there are adaptations you've been avoiding because you are under the assumption that this will all pass over, then you're also probably starting to hear yourself say "Better Late Than Never", because you will still need to adopt your business to this year's reality – which is here to stay.