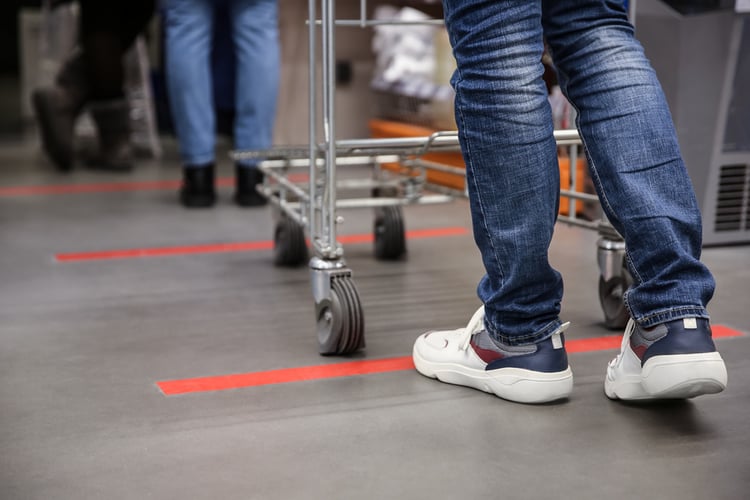 The average person now spends over one year and two weeks of their lives waiting in shopping queues, according to a report from Intel and Box Technologies. Long queues not only discourage customers from even joining the line, but once in the queue, many will walk away and never come back if you make them wait too long.
This is a valid concern for any business that wants to attract and retain customers long-term. So, how long is too long for customers to wait in a queue? And what are some ways you can minimize queues, so your customers don't walk out?
What is Queuing Time?
Queuing time is the length of time a customer spends waiting until they are helped by a staff member to complete their transaction, given access to a facility, or provided with requested information. Queues are a way to manage large volumes of people when there are limited staffing resources, so everyone is served as effectively and quickly as possible.
How Long is Too Long for Customers to Wait in a Queue?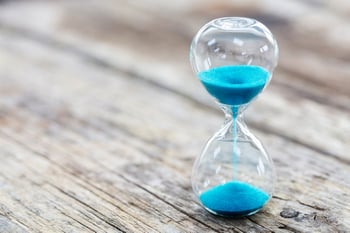 "Real" and "perceived" queuing time may be slightly different. The truth is that people hate having to wait for service, so their perception of how long they've been waiting may be slightly off from reality. In short, any type of queue puts a business in a negative light unless it is handled the right way in the customer's eyes.
So, how long is too long to ask a customer to wait for service? That depends. If you are at the DMV or your doctor's office, 15 minutes might seem like a win. But studies show that these types of waits in a retail situation are far too long.
One survey conducted by hair salon Great Clips found that 94 percent of customers feel a 5 to 10-minute wait is reasonable. In another survey conducted by QM Group, nearly half of customers will choose another brand next time if they have to wait more than five minutes in a queue. And a third of customers will abandon the checkout line after a five-minute wait. That's a lot of lost revenue!
How to Minimize Long Queues So Customers Don't Leave
If you're a retailer, the last thing you want is for customers to abandon their full shopping carts due to long queues. Another thing you want to avoid is having single-purchase customers who will never return to your store again because of a poor shopping experience. So, how can you minimize long queues so customers don't leave and will remain loyal? Here are some tips.
1. Be Transparent With Queuing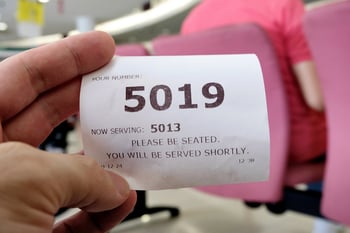 When customers see a line and decide that the better option is to leave your store, nobody benefits. Your customer doesn't get the products they want or need, and you lose business. But lines are about perception. Some long lines move lightning fast, and some short ones never budge.
Let your customers know how long they can expect to wait in your queue. You can use an automated queue management system that modernizes this process. Or, you can go old school and post a sign, "wait time is approximately 5 minutes from this spot."
2. Make Queuing More Fair
If you've ever tried line-hopping to secure the "best" or fastest line in the store, you know that it often doesn't work out and causes more anxiety than it's worth. In fact, this activity can lead to even more checkout delays.
Customers just want queues to be fair. So do that. Create a first in, first out queue system that eliminates the issue of line-jumping and makes the entire process more equitable.
3. Give Customers Something to Do
Remember perceived wait time? You can make actual wait times seem much shorter if you give your customers something to do. Sure, some will be staring at their phones. But you can give them options.
One option is to provide a variety of products in the checkout area that customers can view and make potential purchases. A lot of retailers do this with great success. Another is to follow Disney's lead and just entertain people with videos.
4. Bring the Register to the Customer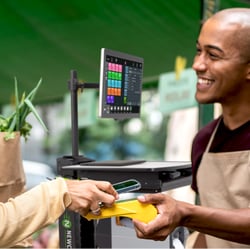 One of the best ways to reduce customer queues in retail is to bring the register to the customer. Your salespeople are already on the floor, providing assistance with sizing and product selection. Those same salespeople can complete the transaction using mobile powered carts. These carts have wireless capabilities and portable battery packs. From them, your staff can look up information, scan items, accept payments, and print customer receipts.
5. Have Special Stations for Complex Purchases
Finally, some customers have complex purchases or transactions that can create bottlenecks in the queue and lead to widespread frustration. Instead of holding up the line, consider having a special line for any customer who requires more time for things like exchanges, special orders, returns, loyalty program sign-ups, etc.
Leveraging Technology in Your Store for a Better Customer Experience
While there are some procedural things you can do to reduce long queues in retail stores, few things will have more of an impact on this issue than reliable, innovative technology solutions. Take a look at your store's current technology and see how it is impacting transaction times. There's a good chance you can upgrade your systems and implement some new processes, such as using mobile powered carts on the store floor, to improve the customer experience and drastically reduce those long customer queues.
It's a fact of life and doing business that today's consumers aren't as patient as they once were. Long lines and long waits are going to hurt your sales and brand reputation. Fortunately, there are several strategies you can use, including using technology like mobile powered carts, to reduce those waiting times and improve the overall customer experience.