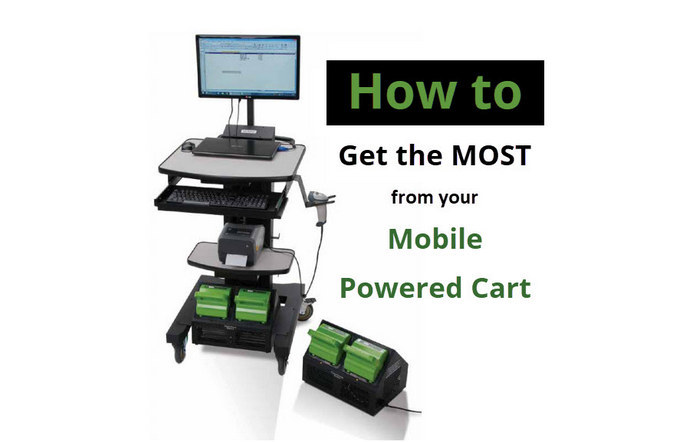 After thirteen years pioneering the mobile power workstation, we have seen our mobile powered carts deployed in places we never imagined or accessorized in ways our engineers would not have dreamed of. We have also seen many of them doing the same exact thing they were doing when they were first purchased over a decade ago – reliably, faithfully and without fail every day.
But we have also learned from our location visits and conversations with many of you that you could be doing more with your carts. Just as your business has grown along with us, so have the uses for our carts, who are now the equivalent of teenagers – they seem invincible and believe they can do anything.
While our carts have always been a staple of an efficient receiving dock, over time they have found a place in almost every part of the Distribution Center in addition to other facilities like retail floors, storage vaults, and even offices.
Here are some of our favorite ways to get more out of your Newcastle Systems mobile powered carts you may not have considered:
The Lithium Battery Option Changes Everything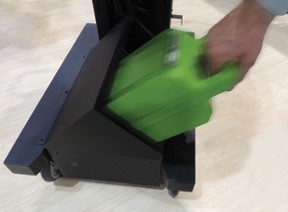 From Day One, most of you have relied upon our original battery options, all of which are based on various sizes of a sealed lead acid (SLA) battery – similar to a marine battery found in a small outboard motor. This solution has always offered a price advantage, but since our PowerSwap Nucleus battery is now in its third year of use with our launch customers, there are things that the sealed lead battery (SLA) crowd is missing out on:
Weight Loss – the most common thing we heard about our batteries in the early years was that they were too heavy. Depending on your configuration, the PowerSwap Nucleus battery can lighten the weight of your cart by 50-100 pounds as a single battery and docking station adds only 33 pounds to your cart!
The "Lego System" Effect – The PowerSwap Nucleus battery was designed to be swappable – so you never have to shut down your workstation to charge a battery. Carrying an extra set of batteries in your charging station means your workstation can run 24/7 over three shifts if necessary. For anything that requires mobile power and can support a docking station (22 lbs.), the PowerSwap Nucleus battery can be your interchangeable power source across a whole system of solutions.
Better for Modern Configurations – since we launched our business in 2005, typical workstation configurations (laptop, monitor, scanner, thermal printer) require MUCH less power now. Many of our clients get as much as 10-12 hours of use from a single charge on a single PowerSwap Nucleus battery for some configurations that would have required two sealed lead acid (SLA) batteries 10+ years ago.
But That's Not the Best Part:
The PowerSwap Nucleus battery Has a Lower Cost of Ownership - Finally, we also see that the Nucleus is more cost-effective solution. While the sealed lead acid SLA options are far less expensive up front, the huge advantage in cycle counts between SLA and the PowerSwap Nucleus battery (300 vs. 3,000) mean you don't need to open up your battery compartment and change your SLA battery every 12-15 months when it won't charge any longer. Assuming a fully loaded cart is used daily, the PowerSwap Nucleus battery will last five years or more (with 80% of its power), meaning it will cost you less over that time than the sealed lead acid option!
The Applications You May Not Have Thought Of:
While the "Cart a Battery" idea in 2005 was inspired by "You shouldn't have to walk that far to get labels", the uses for mobile power expanded from what was mainly about the receiving process (where labels are commonly printed in an office for incoming shipments and retrieved by the staff working on the dock – resulting in all those steps) into a wide variety of applications – not all of which were our idea!
1. As a Core Component in 3PL Infrastructure – One lesson learned over the years is that our 3PL customers need to build out their warehouses for clients with a maximum of flexibility. So racking, conveyors, etc. can be moved or rearranged when they are replaced by a new client or the client's business changes due to seasons or other factors. Having a heavy-duty fleet of carts with powerful batteries means that nearly every type of standard 110v equipment can be put on wheels, or used from temporary locations while reconfigurations are happening.
One example that led to immediate capital savings was a facility that realized they could drastically reduce the number of printers they were planning to order for a new facility when they modeled how they would get used once they were mobile.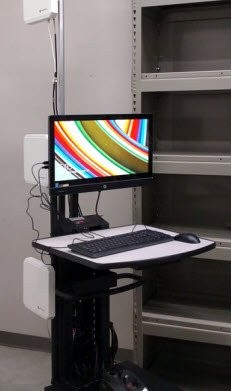 2. The Fastest Inventory Taking System on Earth – conceived by one of our clever Resellers. This application entirely changes the approach to taking inventory and radically shortens the hours required while guaranteeing nearly 100% accuracy. Designed to work in an RFID equipped area, this cart is outfitted with a telescoping pole that also has three RFID antennae mounted on it.

Because RFID works by proximity rather than line of sight, RFID tags will get recorded even if they are on the backside of the item in the rack, and depending on the range of the tags used and the width of your aisle, inventory can be taken from both sides of the aisle at the same time simply by pushing the cart along as you go.

No need to stop, no need to scan anything. It means that inventory will take only as long as it takes you to walk up and down your aisles! RFID has made huge leaps and bounds in recent years, and if your facility is handling high-value items or a high percentage of case, pallet or bulk goods, and you haven't considered it in the last five years, it might be time to speak with someone and get an analysis done for you.
3. The Dimensional Scanner as a Revolution – Yes, while it may seem like we say "revolution" a lot, we have yet to use it outside of the Receiving process analysis we have published.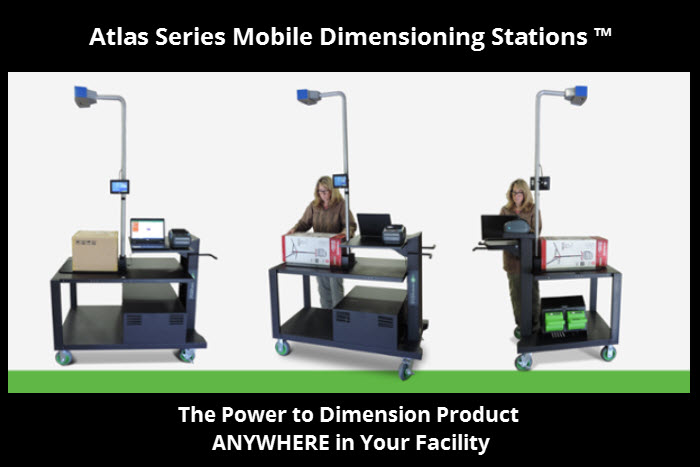 In this case, however, use of the word is merited. As we recently shared in another post, a single scanner can be manipulated to transform nearly every process in your distribution center. As noted earlier, our annual customer survey consistently reflects "space utilization" as the most pressing problem everyone faces. The scanner (in conjunction with some software) gives you a method to re-arrange your racking to maximize space utilization and also optimizes pallet-loading, truck-loading, packing efficiency, etc.
Accessorize, Accessorize.
Finally, over the years, many new accessories have expanded the potential of the simple cart. With many of the ideas coming from you, our users, there are a lot of options you have likely not seen before. A few to include:
1. A Holder for ANY Computer – while we tend to model our carts with a laptop sitting on top of them, there is a holder for any type of CPU you like: Laptop, tablet, mini tablet and even a large desktop tower.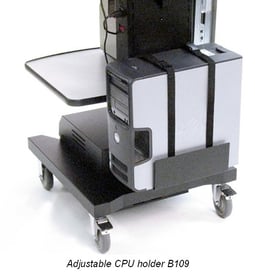 2. The Mobile Desk Set – just because we all agree with the goal of creating a paperless facility doesn't mean we don't have paperwork. For those who need their desk to go with them on the floor, the top of your cart can be transformed into a mobile desk with a desk organizer, an LED light and even a cup holder!

3. Rough and Tumble Mode – Not everyone gets to work in a clean room style environment. Hopefully your teams have the right gear for a dirty or dusty environment, and your carts have options too. There is not only a cover for your cart when it is not in use, but other options like a cover for your printer while it is in active use on the floor and rugged wheels for work areas that may not have a perfectly smooth floor or where there may be unavoidable cords or hoses to traverse.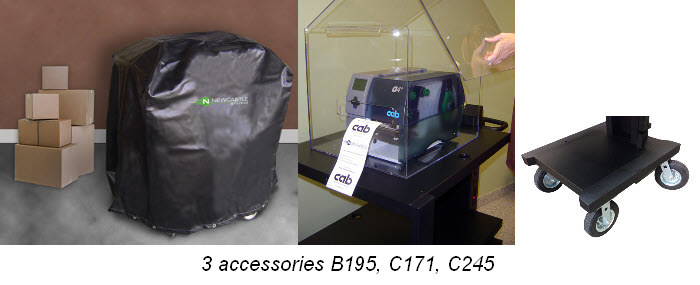 See our full selection of accessories here.
Tell Us About Your Cart. We're Listening.
Modernizing your facility implies a lot of new thinking – new processes, new equipment that enables them, and new skills. A part of that modernization also implies equipment that no one has created yet…but you may have already imagined it:
"I wish I had a way to bring this device to [name your location]."
"I wish I could bring [additional item] on my cart on the floor."
"I wish there were a cart that could help me with [name ]."
"If only there were a battery-powered version of [name]."
If you've caught yourself wondering about any of these questions or ideas, do let us know. As always, many of our best innovations come from what our customers share with us and what we see out there on the floor with them.