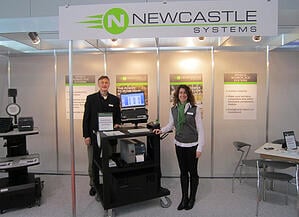 If you're searching for a flexible solution for your computer workstation, it might be wise to explore the possibilities that a powered computer cart on wheels can offer. The new mobile computer workstation is not simply a computer cart on wheels, but instead, it's a self-powered workstation that allows you the flexibility to move your computer, scanner, printer, and a variety of other components throughout your work area in order to assist you in becoming more efficient in your business.
The powered work station is equipped with six-inch wheels that allow for easier mobility, and a wheel lock for added stability as well. While the top shelf, which boasts a 200lb weight capacity, is adjustable in up to three positions, the lower fixed shelf contains the PowerPack that allows your work station to be completely mobile. The optional middle shelf is adjustable as well, and can support up to 100 additional lbs of equipment. An integrated power strip enables you to plug in your equipment without worrying about hazardous extension cords or the distance from electrical outlets.
A number of optional accessories can be added to your workstation so that you have the opportunity to customize it to fit your specific needs. From an adjustable flat screen tower that is designed to safely hold your monitor at a variety of positions, to a laptop/ tablet holder that keeps your device in a secure placement, a CPU holder that can be placed on the side of the cart, and even an adjustable scanner holder, personalization is simple.
A powered computer cart on wheels can offer benefits in a wide variety of industries. Warehouses, retail facilities, and manufacturing companies, as well as a variety of other businesses will notice the increased benefits that a computer cart on wheels can provide.
Eliminate placement restrictions that would have formerly been caused by more traditional workstations, since you will no longer need to consider the placement of electrical outlets.

Eliminate lengthy planning and implementation procedures since your computer cart on wheels can be delivered and set up in about a day, and can be placed virtually anywhere in your facility.

Integrate your current equipment without the need to purchase additional costly equipment.

Allow employees to experience real time information as they work.
Mobile computer carts which also include a PowerPack are ideal for inventory control, labeling and printing areas, point-of-service and more! These ergonomic workstations are designed for superior modular, mobile workstation use that can be configured for a variety of environments including retail, distribution centers, warehouses and medical facilities.
The options are endless with the new powered computer cart on wheels. To begin customizing your computer cart on wheels, contact Newcastle Systems today by calling 781-935-3450.
Or configure your own mobile workstation here: