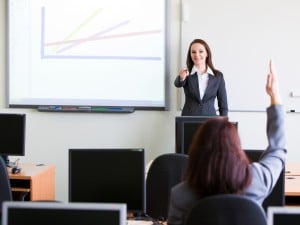 Ever feel like you spend more time planning meetings than you actually spend in meetings? You're not alone. Research has found that many professionals spend five hours a week arranging presentations and meetings. All this wasted time makes us wonder why we should worry so much about scheduling the conference room and trying to arrange around impossible schedules. If a modern AV cart with portable power can simply bring the meeting to you, think about how easy it would be to avoid all the hassles.
Powered up and completely portable, the full-service AV cart means that you can set up a presentation anywhere in the building. No need to worry about whether someone else is using the designated room, and no need for anyone to have to relocate from their desk or work area.
The AV cart comes loaded up with all the technology you need, ready for a flat-screen display, laptop, tablet, digital projector or whatever you want to use. Since you don't need to plug anything into a wall outlet, you're free to set up the presentation wherever you want.
Productivity is more than a buzzword. It's a necessity for your business' success. It's unfortunate that holding meetings has become a detriment to productivity for many workers, because a good presentation should be boosting morale and productivity. No longer do the logistics have to cut into the benefits of sharing presentations and getting face time with your colleagues.
With a mobile AV cart that includes a portable power pack, you can finally enjoy the impact of holding presentations wherever and whenever you want. Cater to an overworked executive by bringing the show to them, or hold a status report in an impromptu location.
Thankfully, the powered AV cart makes holding presentations in whatever way you want possible.
If you are interested in talking about how you can add AV carts to your workplace, please contact us here.
The white paper "Optimize Your Wireless Facility" is available for immediate download: