FREEDOM FROM CORDS = THE PC SERIES IS DESIGNED TO PROVIDE TRUE MOBILITY ANYWHERE WITHIN A FACILITY.
The PC Series Mobile Powered Workstation by Newcastle Systems has been designed to hold and power a variety of equipment, including a laser printer, yet also provides generous space to hold inventory.
We can put together a quote for your specific workplace. Please complete the form on the left to help us understand your needs. We respond promptly to all quote requests!
To discuss your specific equipment application,
contact us at 781-935-3450
Unique Features Include: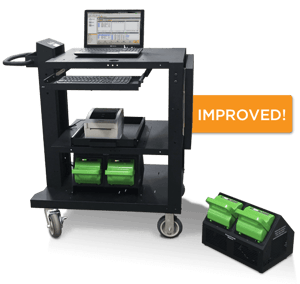 Integrated Power - seamless rechargeable power and the ability to run several devices at once for 8-12 hours of normal use.
Mobile - new and improved casters now provide 50% improvement in rolling force. It can be moved and positioned with minimal effort throughout a facility.
Adjustable - using a slotted upright system, the shelves and accessories can be quickly adjusted in seconds to suit the operator's needs. It also boasts a weight capacity of 500 lbs.
Modular - a number of optional accessories are available and can be integrated in seconds. Create a highly versatile workstation that can be configured to suit any application.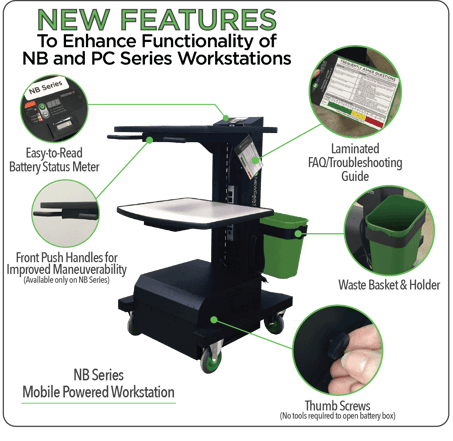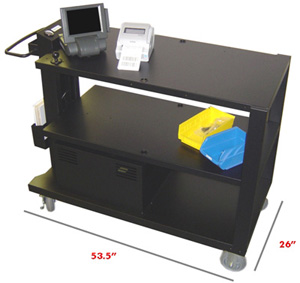 The PC Series is also available with 48" shelves (shown left).
With the unit's seamless power, it is possible to record inventory real time and print labels on demand.
Performing inventory management and label printing right as the product is handled results in signficant productivity benefits. In receiving departments, inbound product can be received in, inspected, labeled and rerouted all on the same picking cart. This eliminates the product being handled multiple times as well as unnecessary foot steps.