HAVE MORE TIME TO SPEND WHERE IT COUNTS: WITH YOUR CUSTOMERS
Portable POS Cart | Retail Environment Mobile Workstations
Smart Productivity for Front & Back Store Operations
Performing your tasks at the point of activity saves time, improves accuracy and keeps sales personnel on the floor - ready to help your customers.
Our Mobile Workplace and Portable Power Systems are designed to hold and power up to (4) pieces of existing hardware for 8 – 12+ hours of normal use. Ideal for POS systems, laptops/PCs, barcode printers, laser printers, scanners and much more.
Typical mobile workstation applications for retail store floor:
Shelf labeling, tag and sign printing

Mobile "point of sale" station

Remote power for sidewalk events, garden centers, grand opening & more

Inventory management front and back store operations
Did you know? 47% of customers claim they have failed to make a purchase because checkout would take too long.
Productivity Impact for Retail Stores
When you integrate mobility into your existing process, improved productivity and customer satisfaction is immediate.
Eliminate the need for personnel to walk back and forth to a static cash register or shelf label printer

Key sales personnel stay on the floor - ready to help your customers

Eliminate long lines during peak periods with a mobile "point of sale" station

Ensure accurate, real-time pricing, while eliminating costly walking to and from static printers

No hazardous extension cords on floors or data drops from ceilings

Mobile stations can also be customized to fit your brand.
Contact us to learn more.
---
Mobile Stations for Retail Distribution
Receiving is perhaps the most important process in the warehouse - all downstream processes depend on the accuracies of data entry and labeling during receiving. Mobile powered carts can help your receiving area:
Boost dock to stock cycle time

Reduce labor by as much as $10K per worker
Increase receipts by as much as 60%
Reduce improperly labeled products
Reduce inaccurate inventories
Watch video above to see how easily mobile power can be integrated into your receiving process.
---
Common Mistakes in the Retail Warehouse
Interview with Derek Coppinger, VP of Sales & Marketing, Newcastle Systems
Click the spaghetti drawing below for a closer look at how this warehouse was able to reduce dock to stock cycle times with mobile power!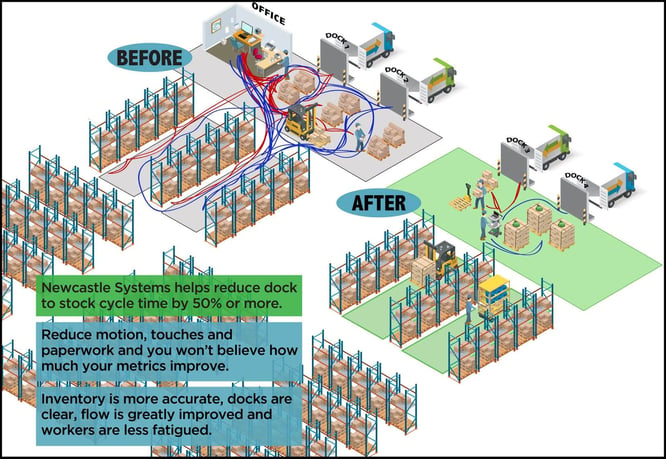 These powered mobile workstations makes your equipment available wherever the work is and eliminates the wasted footsteps from centralized process paperwork, label printing, etc.
To learn more about the best solution for your process, contact your account manager, or request a quote today!