Customer feedback is taken seriously at Newcastle Systems as we work to continuously improve our product lines. Taking this feedback into consideration, we have added several new features to the NB and PC Series Mobile Powered Workstations to enhance operator experience.
All new NB and PC Series Workstations will come equipped with an easy-to-read battery status meter, an FAQ/Troubleshooting Guide, a waste basket and holder, as well as new thumb screws that make opening the battery box a tool-free task. We have also added front push handles for improved maneuverability to the NB Series. These new features are geared towards making the carts more convenient, user-friendly and ergonomic for cart operators.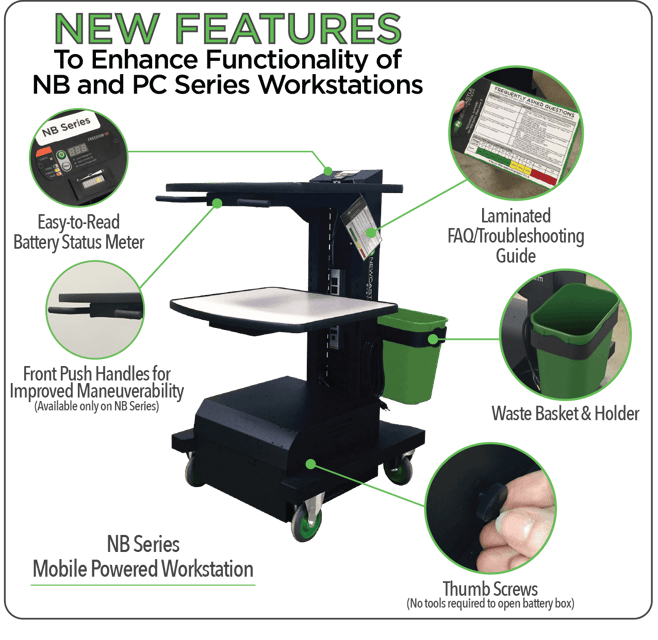 About Newcastle Systems, Inc.
Newcastle Systems is a provider of workplace mobility solutions that include a range of mobile computer carts for every mobile workstation need and a unique power pack system that enables companies to maximize workplace efficiencies with smaller investment. Newcastle Systems mobility solutions are in place around the world helping reduce footsteps in warehouses, speeding receiving operations, improving staffing efficiencies in retail, and providing convenience and ergonomic benefits for employees in many sectors including Manufacturing, Education, Distribution, Military and other Government entities.
For more information: Please visit our website at http://www.newcastlesys.com or direct inquiries to us via sales(at)newcastlesys(dot)com.