Mobilizing legacy printers and pairing them with wireless barcode scanners is an efficient and affordable way to improve labeling accuracy.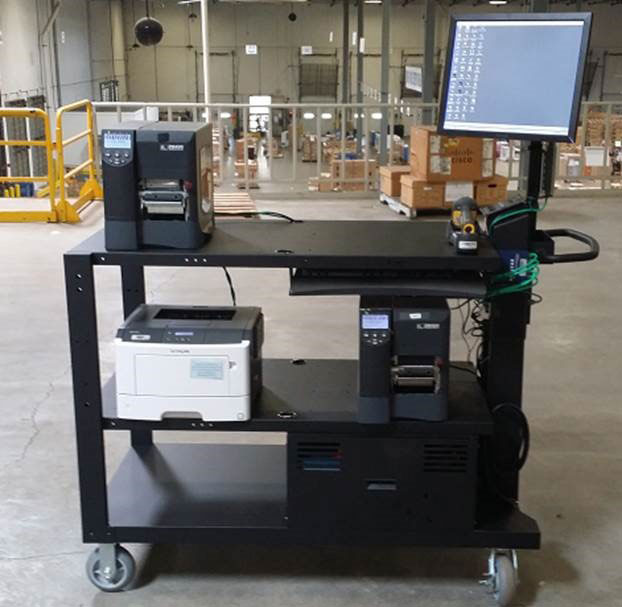 Barcode Labeling is a crucial aspect of the supply chain, yet many organizations struggle to maintain accuracy and efficiency. Accurate labeling is critical for improving workflow and eliminating errors. Mobilizing legacy printers and pairing them with a wireless barcode scanning device creates an affordable, all-in-one solution that yields three key benefits:
Eliminates foot traffic –

Implementing mobile-powered carts equipped with legacy printers eliminates the need for associates to walk back and forth between the printer and the items they're labeling. Even in 2019 many warehouses are still not wireless, and the lack of mobile power creates several extra steps and extra miles walked across the floor every day.

Warehouse associates walk an average of 5 miles per day and spend as much as 50% of their day walking on the job.

A large portion of human errors often happen when so many unnecessary steps are taken, so having everything the associate needs right at their workstation eliminates the wasted time and motion. Mobile-powered workstations allow associates to scan, print and label all at the point of labeling.
Increases productivity and accuracy –

Mobilizing legacy printers allows associates to remain on the floor and on-task, eliminating inefficient footsteps to and from the printer. Having the ability to print on demand vs. in batches drastically reduces the risk of mismatched labels and other costly errors. "Zebra is constantly looking for ways to help our customers to improve their operational efficiency by utilizing track and trace technologies such as bar code labeling and RFID tagging" said Keith LeFebvre, Vice President of Specialty Printing Group Product & Solutions Management. "Our decision to add battery power and mobility to our usually stationary barcode label Desktop Printer family was just the latest twist in extending the industry's most complete Barcode Printer family offered by Zebra Technologies."
Reduces process waste –

Upgrading and mobilizing legacy printers significantly reduces process waste throughout the labeling process. Increased accuracy results in less paper waste such as incorrect or excess labels. It also reduces wasted motion and touch by streamlining each task.
Direct Relief is a humanitarian aid organization with a mission to improve the health and lives of people affected by poverty or disasters. The organization recently implemented mobile-power and upgraded its Zebra ZD620 and GX420t printers in the 155,000 square-foot distribution facility in Santa Barbara, Calif. when leadership noticed that associates were spending much of their time running back and forth to access inventory across the facility.
Direct Relief has a critical requirement of reaching 100% accuracy when distributing medicines. Since inventory is comprised of donated items, SKUs are constantly changing, which also adds to the complexity. Every process improvement the organization can implement to add efficiency allows its team to help more people by getting them the supplies they need faster.
After adding 10 mobile carts to the floor, associates are now able to wheel the receiving process directly to the product, scan it, and move on to the next one instead of operators walking away from the work. As a result, the organization was able to increase receipts by 40% and process them more accurately in 20% less time. In addition, Direct Relief was able to cut the time it takes to pack and ship these vital medical supplies and get them off the dock 67% faster to people who are in critical need.
Mobilizing the labeling process is a great way to avoid costly errors and eliminate unnecessary footsteps that impact your bottom line. Bringing the labeling process directly to the inventory instead of walking back and forth from a printer drastically decreases the potential for mistakes such as mislabeled products. Streamlining this aspect of distribution allows companies to get their deliveries out the door faster. This more accurate process also helps ease the potential of shipment errors resulting in happier customers.
What is "Lean Labeling"? Our guide walks you through how to spot opportunities to improve your labeling solutions. Download The Warehouse Guide to Lean Labeling
---
Kevin Ledversis is the Director of Sales at Newcastle Systems, an innovator of workplace mobility solutions partnering with many of the world's leading companies to enhance worker productivity, operational efficiency and organizational profitability.
This article first appeared on industrytoday.com.