Newcastle Systems Executive Will Present at the ProMat Show in Chicago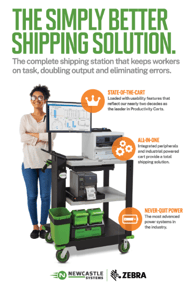 All-New Mobile Supervisor Workstation To Be Introduced at Industry-Leading Trade Show
Amesbury, MA (March 1, 2023) – Newcastle Systems, Inc., a pioneer in the mobile powered industrial cart industry, is announcing that one of its top executives will be presenting at one of the industry's largest trade shows, the ProMat Show in Chicago.
Kevin Ledversis, VP of Sales at Newcastle, will be presenting "The Low-Down on Lean Labeling" on March 21 from noon to 12:45 in Theater G. Joining Ledversis will be Kelly Breneisen, Regional Portfolio Manager at Zebra Technologies to share the latest intel on best-in-breed hardware & media, print automation, and worker mobility applications that can maximize labeling operations, increase labeling accuracy, and help you gain 5 to 10 hours per worker (weekly).
Newcastle will also introduce its all-new Electronic Height Adjust Apex Supervisor Station at ProMat. This height-adjustable ergonomic workstation features an extra-large 30" x 36" surface while providing mobile power to devices including laptops, tablets, up to 2 full LCDs or touchscreens, an industrial barcode printer, scanners and more for 8+ hours at a time. Managers can now have an ergonomic and cord-free solution for full-screen access to ERP, WMS, MES, and other information systems while on the move.
The Electronic Height Adjust Apex Supervisor Station will be showcased at Booth S3872 at the ProMat Show at the McCormick Place in Chicago from March 20-23, 2023. Email sales@newcastlesys.com to schedule a demonstration.
About Newcastle Systems, Inc.
In 2005, Newcastle Systems, Inc. was the first U.S. company to introduce mobile powered industrial carts to support supply chain applications, bringing leading-edge efficiencies to the market. The company has continuously pioneered new technology developing the first swappable lithium battery system for industrial applications in 2016, as well as the most ergonomic mobile carts available. A privately-owned, Massachusetts-based company, it serves some of the largest retailers, manufacturers, and distributors in the world to help to increase supply chain efficiency by consistently doubling employee productivity while reducing costly labeling errors by over 92%.
For more information: www.newcastlesys.com or email sales@newcastlesys.com.