Mobile work cart and lithium battery developer aims to improve manufacturing efficiency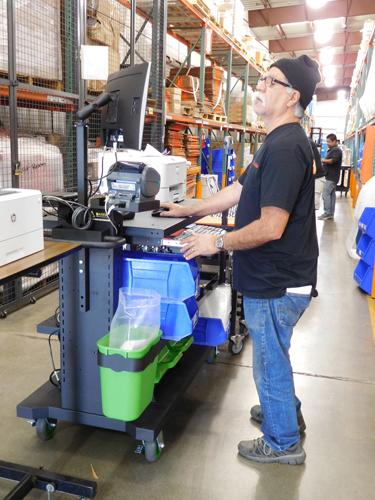 Newcastle Systems customer Direct Relief
uses a mobile powered workstation
in its Santa Barbara, Calif., warehouse.
When John O'Kelly looks at manufacturing shop and warehouse floors, he can't help but notice mismanaged time.
All the walking. All the waiting. All the wastefulness. He can see it even if floor managers think their operations are running like a well-oiled machine.
O'Kelly had spent much of his 30-year manufacturing career learning where to spot work flow inefficiencies. That includes while serving as partner at Production Basics, a company that developed stationary ergonomic work desks for technology companies across North America.
As he observed the inner workings of customers' shops and even his employer's facility during the early 2000s, he noticed something was missing: truly efficient workstations with mobility. At the same time, he also noticed there was vast potential in wireless technologies.
"I saw that sales guys had a lot of access to their CRM remotely," O'Kelly said. "But the poor guys in the warehouse or distribution center or any other manufacturing environment didn't really have the same access to real-time information."
Newcastle Systems' Launching Point
In 2005 O'Kelly applied the shortcomings he observed to a project he was working on for a Harvard Extension School course. The focus of the project was to create an idea for a new business or a new product.
"Other groups in the class were coming up with ideas like a laundromat in a restaurant," O'Kelly said with a laugh. "I just stuck with what I knew and expanded from there."
And O'Kelly's Harvard Extension project quickly expanded into a new business. That March he officially launched Newcastle Systems out of his Boston-area home garage with a direct focus on producing mobile powered workstations.
But for the first several months, as O'Kelly attempted to secure investment, Newcastle didn't have a product to back up the business—just a specific idea. "It was always about the mobile carts," O'Kelly said. "But it was just a matter of how they were going to be powered."
O'Kelly stuck to his intuition that the continuing development of wireless technology would play a large part in Newcastle's business plan. He could see it in the growth and proliferation of cellphones, tablets, and other wireless devices.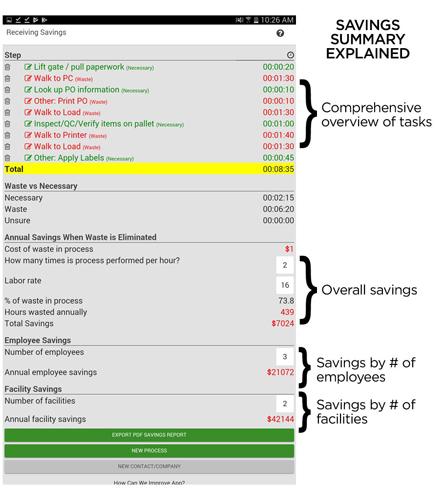 Newcastle also developed the
MotionMeter app to show how
wasted time and unnecessary
walking can be costly.
Mobile Powered Cart Development
"I knew that people wanted more mobility and more flexibility, not less," O'Kelly said. "So, I was pretty confident that I was on the right track."
And he was right. The improvement of wireless technology and strengthening of industrial lithium batteries legitimized his business, and product development took off.
O'Kelly knew that for the workstations to be truly mobile, he had to steer away from the 4- to 6-foot-wide ergonomic desks he was used to with his previous company. The Newcastle powered workstations are no more than 2 ft. wide. "Like a podium you can wheel around," O'Kelly said.
And an industrial podium on wheels gives those working on a manufacturing shop floor, in a warehouse, or in shipping and receiving the ability to be mobile with their electronic office equipment. That means vital devices such as computers, scanners, printers, or anything else that needs to be plugged in.
O'Kelly wanted the functionality of his carts to be solely geared towards manufacturing industries and built with durable, high-quality sheet metal to withstand industrial environments that inflict a lot of wear and tear. "You see this kind of idea, mobile carts, in the medical field. But that product is not so focused on functionality. It's more focused on aesthetics and something a 90-pound nurse can wheel around," O'Kelly said. "Whereas our carts can withstand a 250-pound guy in shipping and receiving."
With this mobility, shop floor employees don't have to waste time going back and forth to an office to print labels, scan products, check material requirements planning systems, perform quality assurance audits, or anything else that ties them to a desk that's away from the shop floor.
It also allows for internal communication to be done in real time. As a shop floor employee using the cart updates work flows in the company's enterprise resource planning system, managers can receive instant updates.
These use cases also apply directly to metal fabricators.
"We have a customer in Mississippi that has used our cart to test items that come directly off the press brake," O'Kelly said. "They roll it literally right up to the fixture and do some measurements."
Over the past 14 years, Newcastle has developed a variety of mobile cart options depending on industry and dimension requirements. For example, the Haverhill, Mass.-based company offers everything from a basic lightweight cart for simple warehouse needs to mid-sized cart options with height adjustment for heavy-duty mobility on larger shop floors. It even offers a powered pick-and-pack cart for operations that require large batch order picking.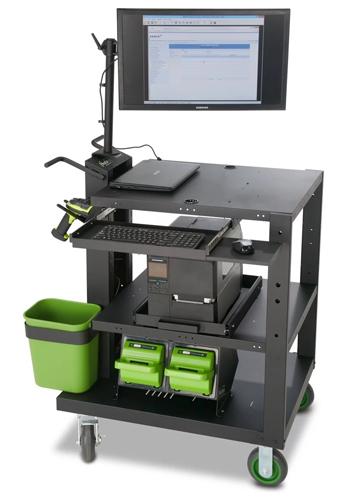 Newcastle's Heavy Duty PC Series cart
uses two industrial lithium batteries
to power a computer, printer, and scanner.
But the power behind the arsenal of mobile workstations and carts comes from a variety of industrial-strength lithium battery packs. These high-powered sources are part of Newcastle's PowerSwap Nucleus system, which includes one to four lithium batteries that can run on a full charge for more than eight hours, as well as charging dock stations. This battery swapping capability allows shop floors to run electronic devices 24/7 on the mobile carts.
O'Kelly added that the idea for creating a swappable battery option with a charging dock station came from listening to customers. Many pointed out that a single battery offering became burdensome when a shop floor employee would forget to charge it after a shift, rendering a workstation useless for hours while the battery powered back up.
"We really learned a lesson with that," O'Kelly said. "And now the swappable battery pack is one of our biggest product lines."
And some Newcastle customers only use the lithium battery packs to power applications that aren't near an electrical source, said Newcastle Systems Vice President Derek Coppinger.
"So, these are the two spaces we are functioning: the ability to have power and apply it where it's needed, and then using that power on a mobile workstation," Coppinger added.
App Measures Shop Mobility
But getting manufacturing companies to realize that this is a viable option has been a challenge. While working directly with manufacturers to address shop floor and warehouse pain points, Newcastle first asks one simple question: If your company needs to improve output by 40 percent in the next six months, how would you do it?
Most responses include getting more forklifts, conveyors, and automated storage and retrieval systems. But very rarely would they mention a need for something like a mobile powered workstation.
"Why? Because they don't really know about it," O'Kelly said. "They just don't know that this is a solution."
And in many instances, companies might be skeptical about the need for a mobile powered workstation on their shop floor. So, Newcastle also developed an app, MotionMeter, to show just how 10 seconds of wasted time and 20 ft. of unnecessary walking can be costly.
"All of a sudden," Coppinger said, "the numbers can add up quickly."
According to data collected by the app, wasted time can cost the manufacturing industry $4.2 billion annually. One shop floor worker can waste 277 hours—almost 7 weeks—per year walking more than 800 miles around the shop.
Companies can use the app to determine just how much time and distance their particular operation wastes on average. The results then are emailed to the company via a PDF with customized graphs and data.
"They can then take that info to management and say, 'Look. We're wasting this amount of time and energy. We could easily gain better efficiency through a small investment,'" Coppinger said.
The development of these mobile powered carts is in step with the emergence and urgency of Industry 4.0. And taking fewer steps on the shop floor can help manufacturing companies on the bottom line.
"This is all driving towards greater efficiencies in the manufacturing process and utilizing the manpower to the best of their capabilities—not having them do as much redundant activity or wasting as much time," Coppinger said. "It's always what people are achieving, getting more from less."
---
Republished from:
THE FABRICATOR JUNE 2019
JUNE 18, 2019
BY GARETH SLEGER