Manufacturing challenges in 2019 center around four key areas: speed, efficiency, demand and labor. The labor force is dwindling, yet demand and pressure have never been stronger. To increase efficiency while maintaining speed and accuracy, supervisors on the manufacturing floor need to get creative with tools and tactics. One way to improve efficiency is through the implementation of a water spider.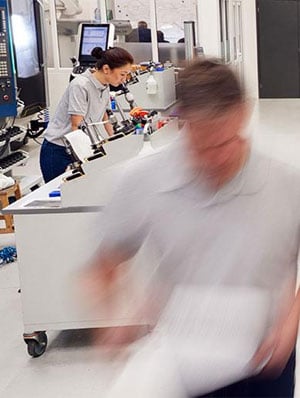 This water spider is not an aquatic insect, but rather a role on the manufacturing floor responsible for keeping workstations stocked and replenished across the production line. A quality water spider will provide tools and resources to each assembler on the floor, so they can keep production moving in an efficient manner. A successful water spider frees up other employees to focus on their specific tasks without having to stop work to walk back and forth to replenish equipment or materials. Every wasted step on the manufacturing floor reduces efficiency. The water spider ensures non-value-added activity is limited.
Water Spider in Action
KARL STORZ Endovision, Inc., Charlton, MA, a division of KARL STORZ SE & Co. KG, Tuttlingen, Germany, is a family-owned global manufacturer and distributor of endoscopes, medical instruments, and related devices. With more than 660 employees, KARL STORZ Endovision relies heavily on having an efficient manufacturing process.
With a mission driven on lean practices, the company is always looking for ways to improve their process, and in February 2017 the organization implemented a water spider system that's been providing benefits across the organization. When their manufacturing floor associates need equipment or supplies, the water spider promptly delivers the tools, so the staff can stay focused on moving production forward without ever needing to worry about supplies. The spider is able to track inventory in real time through the company's sophisticated enterprise resource planning (ERP) system.
Prior to implementing a water spider program, assemblers needed to stop what they were doing, get up, take their safety gear off and refill their supplies themselves. The old process included wasted steps and motion that led to down time.
The water spider's workstation features a two-bin system where all parts needed are in specific bins at all times. The water spider will come around to certain sections based on the information the ERP system is displaying, and the assemblers can easily identify the bin they need and pull the parts out for use. The water spider is responsible for identifying where replenishment is needed, and always ensuring bins are full. The workstation features a printer, scanner, and computer to run their ERP system, so the spider can track inventory and deliver materials. Because of the printer and technology included, adequate and reliable power is vital to the success of the workstation.
The workstation is a custom-made Kanban cart that is specific to their assemblers' needs on the production floor. When the system was first introduced, the cart had a portable battery pack that lasted only 45 minutes. The point of the water spider is speed, flexibility and mobility. So, switching out a battery pack every 45 minutes was not efficient.
To solve this problem, a mobile-powered lithium battery pack was implemented which now powers the water spider's workstation for an entire shift. Without needing to worry about power cords, the water spider is free to move along the floor as needed, rapidly replenishing materials and supplies on the go. Once the company figured out the design of their cart, power was the last obstacle. The mobile-powered workstation has been providing massive benefits ever since.
The company has calculated a 40 percent time savings since implementation. Prior to this system, four to five staff members were responsible for material replenishment. Now, on the production floor where implemented, only one water spider is needed. This has allowed the other four employees to be redeployed to other value-added activities on the manufacturing floor. The water spider system has also resulted in a 58 percent reduction in physical movement as there are no longer duplicate movements or wasted steps.
Their production line is also much smoother and now has 80 percent fewer interruptions to their process. The water spider and its mobile-powered workstation have had a huge impact on operations in terms of production quality and quantities, as well employee retention. With this new system, assemblers are far more engaged during their shift.
Manufacturing in 2019 is a competitive industry where challenges arise on a daily basis. Any implementation tactic that adds efficiency is a major organizational benefit. Adding efficiency and retaining talented employees greatly improves the output and success of any facility. The results are as clear for KARL STORZ Endovision as they would be for any production floor, if you're seeking added efficiency—look to the water spider.
John O'Kelly is the CEO/Founder of Newcastle Systems.
---
This article was first published May, 2019 on the Manufacturing.net blog.