The greatest challenges in the manufacturing industry today stem from process inefficiency and wasted time and motion. In order to meet increasingly high demands, manufacturers need to get their product out the door quicker without sacrificing accuracy. In medical device manufacturing there is no room for errors caused by wasted motion. The production of medical instruments must be quick, yet precise, ensuring supplies produced are of the highest quality. One effective way to improve efficiency during the manufacturing process is to add a material replenishment specialist on the production floor. The job of this specialist is to make sure the workstations of each associate remain fully stocked with the necessary materials and refill as needed. With a material replenishment specialist floating around the production floor, associates never run the risk of running out of materials.

The time that manufacturing associates spend stepping away from tasks, removing their safety gear, and refilling their supplies results in non-value-added activity and countless wasted steps. With these replenished materials easily accessible via a specialist solely responsible for material replenishment, employees can keep production moving and focus on their task without stopping their work.

Succeeding with Material Replenishment – The Water Spider at Karl Storz
Karl Storz Endovision Inc. located in Charlton, Mass. is a division of Karl Storz SE & Co. KG (Tuttlingen, Germany) and is a family-owned global manufacturer and distributor of endoscopes, medical instruments, and related devices. The company saw the value in using lean practices to add more efficiency to their manufacturing floor. To improve speed and accuracy, Karl Storz Endovision recently implemented a "water spider" system, their answer to solving material replenishment problems.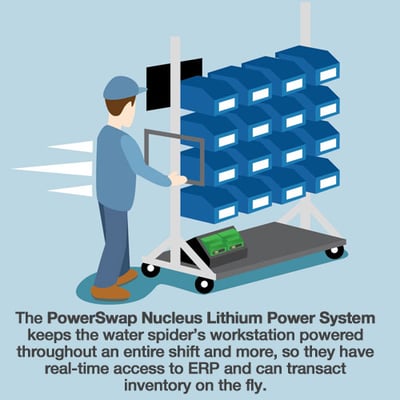 The water spider's role is to keep workstations stocked and replenished throughout the production line. The spider is able to track inventory and provide the materials needed to each assembler, allowing them to keep production moving without skipping a beat. The water spider is not only able to identify where replenishment is needed on the floor, but it is also responsible for ensuring that its bins remain fully stocked. The PowerSwap Nucleus Lithium Power System keeps the water spider's workstation powered throughout an entire shift and more.

The benefits of the water spider have added value to Karl Storz entire production system. The key to the water spider is its workstation that features a two-bin system in which all materials needed by the assemblers are stored in specific bins. With information displayed through Karl Storz Endovision ERP system, the spider will move to certain sections on the production floor to deliver resources to specific assemblers. Once the spider locates them, the assemblers can easily identify which bin they need to pull parts from without hesitation. The spider also includes a printer and computer through which their ERP system is run. The inventory tracking information gathered by this system allows the water spider to locate which stations are in need of replenishment at all times.

Since implementing the water spider, Karl Storz Endovision has calculated a 40 percent time savings on their manufacturing floor. Their material replenishment systems no longer take four to five employees to complete. With just one water spider able to perform this replenishment, those four to five staff members were able to be relocated to other value-added activities on the production floor. Karl Storz Endovision also calculated a 58 percent reduction in physical movement since the water spider was implemented. Since assemblers no longer have the need to stop production to refill materials, Karl Storz Endovision now has 80 percent less interruptions to their process.

As demand continues to increase for manufacturers, there is more pressure to produce products quickly. For a company that manufactures medical instruments, it's essential they maintain precision and accuracy while increasing speed. Karl Storz Endovision's implementation of the water spider gave them exactly the efficiency improvement they were seeking and gives their company a competitive edge.
This article first appeared on MPO-Mag.com - Medical Product Outsourcing