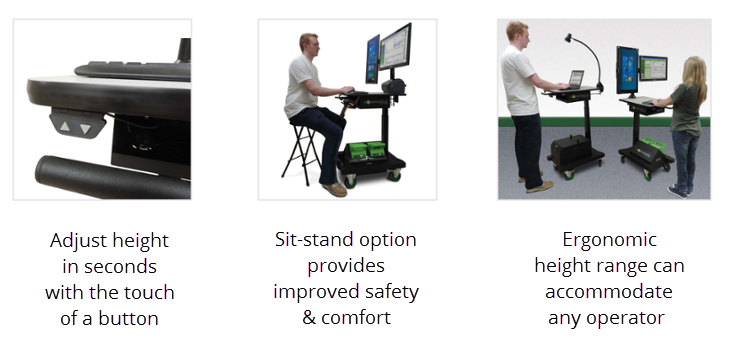 New height-adjustable cart improves processes, while providing comfort and safety for all employees
HAVERHILL, Mass.--(BUSINESS WIRE)-- Newcastle Systems, a leading provider of mobile-powered workplace solutions designed to make warehouses, manufacturing facilities and retail floors more efficient, today introduces its latest product, the APEX Series Mobile Workstation. The height-adjustable mobile cart provides flexibility for employees working in many industries including aerospace, automotive, electronics, and medical device manufacturing.
"We aim to provide innovative solutions that will allow our manufacturing partners to complete their tasks more efficiently," said Newcastle CEO John O'Kelly. "The APEX Series Mobile Workstation provides a cost-effective solution for any facility looking to ensure ergonomics and safety for its workers, while also improving processes to further its competitive edge."
The Apex Series Mobile Workstation is an essential component to any organization that is implementing or enhancing its "paperless process." Operators & managers now have full-screen access to ERP, MES and other information systems while on the move. Manufacturing floor associates can go from standing to sitting with the touch of a button enabling them to complete their tasks quicker and safer. The workstation's integrated power system allows associates to completely leverage their wireless facility. This workstation can seamlessly flow from task to task without cords or costly cable drops, adding a greater level of efficiency to every facility.
This versatile workstation has an ergonomic height range, 30" – 48" from floor to top shelf to accommodate all employees. Its compact footprint, only 19" in width, will allow associates to navigate narrow aisles and tight spaces. The workstation is hardware-friendly, and with the PowerSwap Nucleus Lithium Power System, the APEX Series Ergonomic Workstation fits even the most demanding of power needs.
Typical applications include visual work instruction, asset tracking, quality assurance, on-demand label printing/scanning and more.
The APEX Series Mobile Powered Workstation is already providing process improvements for clients such as Cogmedix, a medical contract manufacturer of medical and clinical devices.
To learn more information about the APEX Series Mobile Workstation please contact Newcastle's sales team 1-781-935-3450 or visit this page.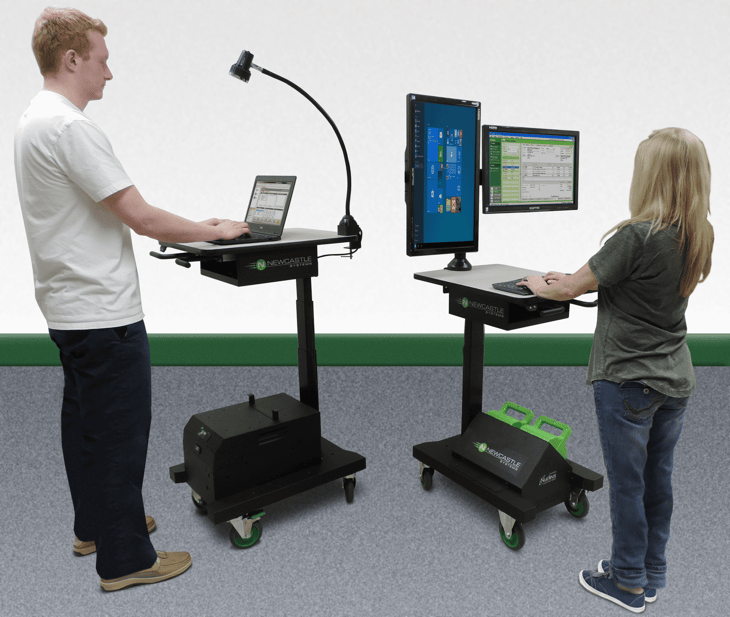 About Newcastle Systems
Newcastle Systems, Inc. is a provider of workplace mobility solutions that include a range of mobile carts for every workstation need with a unique, integrated power system that enables companies to maximize workplace efficiencies with minimal investment.
Newcastle Systems mobility solutions are in place around the world helping reduce footsteps in warehouses, speed up receiving, picking and shipping operations, improve staffing efficiencies on retail floor, and provide convenience and ergonomic benefits for employees in manufacturing, education, distribution, military and government sectors. For more information, visit http://www.newcastlesys.com or e-mail sales@newcastlesys.com.