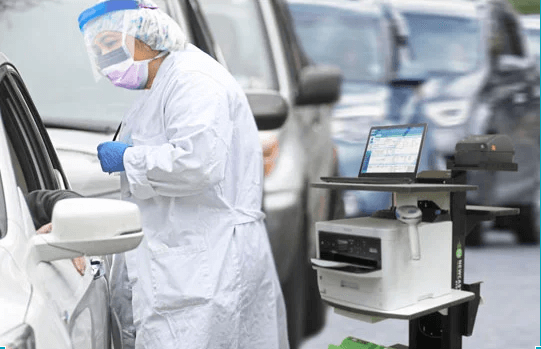 Allows providers to print, test, and scan at outdoor testing sites, hotels, convention centers as well as traditional and temporary facilities.
HAVERHILL, MASS. (PRWEB) APRIL 23, 2020
Newcastle Systems, a leading provider of mobile-powered workplace solutions designed to make warehouses, manufacturing facilities and retail floors more efficient, today announces their latest product in response to increased demand from healthcare providers amid the COVID-19 pandemic.
The FH Series Mobile Field Health Station is designed to mobilize and power laptops, printers, scanners and other critical devices for 8+ hours at a time at outdoor testing sites, temporary healthcare facilities and more. It also allows healthcare providers to print, test and collect patient data from the bedside, while keeping a safe distance.
"Mobilizing these commonly-used devices will cut down on wasted steps, increase efficiency and a provider's capacity to service more patients in a timely manner," said Newcastle CEO John O'Kelly. "Providing a workstation for each employee that can be easily sanitized and used at a safe distance will eliminate the need for shared stations and help facilities protect their employees."
The FH Series comes standard with an adjustable top antimicrobial HDPE shelf that can be easily wiped down and disinfected. The units are offered with standard 5" or 8" rugged locking casters that accommodate use in parking lots, on gravel or other uneven surfaces, and a swappable lithium battery system for 24/7 operation. Once the battery charge is depleted, it can be easily swapped in seconds with a fully charged battery from the system's stand-alone charging station. Batteries can be charged in about 4 hours.
"We've seen an increased demand over the last few weeks and have worked quickly to create a product that can help our healthcare heroes work as efficiently and safely as possible through the tough weeks to come," said O'Kelly. "We want to do everything we can to help the helpers. We're all in this together."
The FH Series can also be customized with optional accessories to accommodate your current computer and devices, or any combination of scanners, printers, tablet, touchscreen or laptop/keyboard. Additional organization/storage options, shelving, and LED lighting are also available.
---
To learn more information about the FH Series Mobile Powered Workstation, please contact Newcastle's sales team 1-781-935-3450 or visit https://www.newcastlesys.com/fh-series-mobile-field-health-testing-stations.
This article first appeared on CISION PR Web.