This article, an interview with VP Derek Coppinger, was written by author Alan Segal, and was first published on Aftermarket Business World .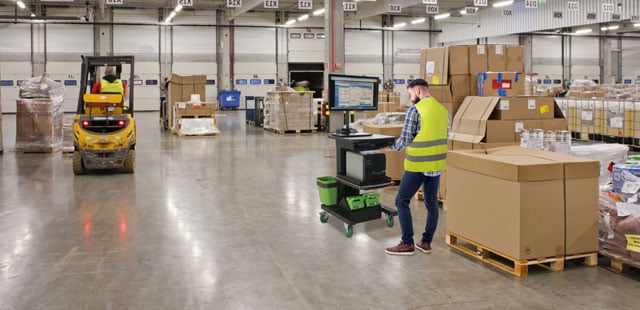 "I need it today, I need one of them, and I need it as soon as possible!" Derek Coppinger, VP of Newcastle Systems believes that demands for instant gratification are stressing the supply chain.The third-party logistics provider based in Haverhill, Massachusetts has two adaptive fixes for the rigid mindset: a mobile workplace and a portable power system.
Instead of exhausting precious time, money and efficiencies marching to the office for information, Coppinger has placed the essentials on a carrier. The Mobile Power Workstation (MPW) runs on a battery swap system that keeps the monitor, laser printer, scanner and computer hardware humming smoothly on a perpetual schedule. These rugged offices on caster rollers freely move about the workspace.
Coppinger, an Irish-born industrial engineer whose six-year-old company broke into the aftermarket in 2019 says, "most of the people who we talk to conceptually understand the application and what it does."
From the 'middle mile' to the 'last mile,' factories and fulfillment centers face pressure to coordinate the push through the distribution pike. By working directly at the location wherever the MPW is needed — the assembly line or the receiving area — an operator can capture real-time information from their screens or print labels without slowing down.
What Coppinger sees from a varied range of aerospace to pharmaceutical to consumer goods segments is that supervisors are distracted from the epicenter of activity. "People lose much time and energy going back and forth, having conversations getting information to the floor," he says. Material handlers must wait for ERP plans, inventory data or CAD drawings. As the physical separation lengthens, informational mishaps combined with safety hazards often result in bottlenecks from the clutter.
Unless a company deploys an industrial engineer to analyze the working crews' movements, explains Coppinger, an operation is at risk of bleeding costs. Large-scale factories saddled with complex production lines are blind to the potential process savings that can translate into millions of dollars.
At last year's first aftermarket trade show, Coppinger recalls the handicaps voiced by prospective accounts. For most suppliers and auto parts makers, said Coppinger, "the ability to react in a faster mode and understand where they are in the process without running out of product and accurate inventory is vital. If they know where they stand in real time, they can better rely on the supply chain to provide what they need in a timely manner. And the uptime issue is better."
Before converting a stationary workplace to a mobile one, Coppinger encourages doing a motion time study to uncover the hidden causes of waste. Via an intuitive smartphone app, the customer receives a report that filters the necessary, value-added steps from the wasteful ones. From there, Newcastle custom tailors their MBWs befitting of the most exacting requirement.
"Manufacturers often fail to realize that there's a problem until you point it out," notes Coppinger. It's common for managers to underestimate allocated manpower because much of the activity seems natural to their process. Workers pass at least 20 percent of each hour unproductively obtaining data from a fixed point. Seeing how this framework universally applies to most environments, Newcastle entered the automotive aftermarket with an economical promise.
Unemployment has hit a 50-year low, stock orders are riding high, and companies are seeking better efficacy. According to the US Bureau of Labor Statistics December 2019 release, transportation and warehousing added 16,000 more jobs. Year-over-year productivity grew by 1.5 percent in the third quarter, yielding a 2.3 percent rise in output with nearly a 1.0 percent gain in labor hours.
To offset the labor shortage pinch, Coppinger tells of a distributor who bought ten units to focus on the stock-to-dock shipping process. Using MPWs inside this 24,000-square-foot facility improved outbound shipments by 40 percent. "This process automatically freed up two workers to focus on another value-added area," he said.
Inside the vehicle service station, Tesla Automotive aspires to expand market share. The electric car maker is turning to customized diagnostic aided carts to streamline the traditional repair model by shortening labor hours. Coppinger draws his inspiration from the triage practice at hospitals where the medical staff push the equipment from ward to ward around each patient. While maintaining the auto where needed, the installer can act on the visuals from the monitor and roll onto the next bay.
Coppinger observes that efficiency-obsessed Amazon continuously improves every stage along the pipeline to make the online buying experience seem faster than a store visit. Shaving off three seconds can lead to a hefty dollar savings for an operation of their magnitude.
For this growing firm, which sees 30 percent of their revenue flows from manufacturers, staying apace with progress and looking out for the next innovation preoccupies Coppinger. To feed his creative streak, Coppinger reads novels about people who quickly adapt to turbulent circumstances beyond their control.
One fabricator asked Newcastle to address the narrow spaces where their assemblers functioned. They wanted to eliminate the costly tangle of electrical cords connected to the regularly changing production lines. The design teams honed onto the hand held tablets to replace the physical stations. This modification promised virtual access to CAD drawings and inventory replenishment orders. But tablets require less battery discharge than the larger system that occupies too much room. Shortly later Newcastle built a smaller version named Mini-Nucleus. It performs at the proportionate strength to power the handheld tablets at the same hourly intervals as the bigger power packs.
Noise became another factor because the teams needed to know when the battery was nearing depletion. Shutting off the monitor or the printer would mean downtime. Newcastle developed a wireless notification signal to the tablet and smart phone to remind the operator when to recharge.
A self-driving cart that trails the operator is now in production. It will release handlers from having to manually advance it and let them multitask wherever they choose. Slipping the remote control into his back pocket, Coppinger summed up his vision: "Our solution is proven in many applications and industries. It's a wheel and the battery that's been around for over 100 years."