Seagull Scientific extends BarTender label and document printing to Android devices
BELLEVUE, WASH. (PRWEB) SEPTEMBER 12, 2022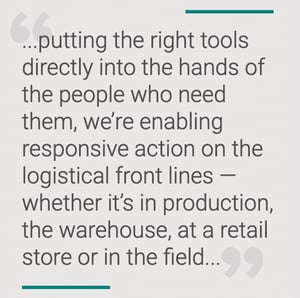 Seagull Scientific, Inc., maker of BarTender® and a global leader in software for labels, barcodes, documents, and RFID tags, today announced the immediate availability of the BarTender Mobile App for Android devices.
Showcasing advanced integration with the newest portable technologies, the BarTender Mobile App builds on BarTender's existing label management solution with an increased focus on mobile accessibility. By harnessing the new app, businesses can further drive the efficiency of their logistics, reduce costs by improving warehouse productivity, decrease labeling errors and minimize waste.
"Label accuracy is a huge problem for manufacturers. A misplaced one-cent label can cause hundreds of thousands, even millions of dollars of sunk costs to a manufacturer," said technology partner Kevin Ledversis, Vice President of Sales at Newcastle Systems. "Giving the mobile worker a secure way to print validated labels and tags at the worker's location via BarTender Mobile App can save thousands of labor hours and offer huge potential savings related to reduced label printing errors."
Harold Boe, President, and CEO of Seagull Scientific said, "in today's unpredictable supply chain landscape, agility is a key driver for business success. Giving businesses increased flexibility and efficiency in their mobile processes will result in business benefits over time — and our new BarTender Mobile App provides an opportunity to enact impactful change, right out of the box."
Boe continued, "this significant evolution of our platform means more organizations can now enjoy seamless, consistent printing across the enterprise. By putting the right tools directly into the hands of the people who need them, we're enabling responsive action on the logistical front lines — whether it's in production, the warehouse, at a retail store, or in the field. And our centralized template management system ensures label consistency and compliance across all devices and systems."
The app is available for free download on the Google Play Store, and is compatible with BarTender 2022 Enterprise, Automation, and Professional editions. For more information about the BarTender Mobile App, visit https://www.seagullscientific.com/software/mobile-app/.
About BarTender by Seagull Scientific
Every year, the world's largest and most dynamic supply chains in every industry trust BarTender to create and manage over 40 billion of the labels, barcodes, documents, and RFID that keep their products moving, traceable and safe. With corporate headquarters and software development in Bellevue, Washington, USA, and branch offices in Madrid, Taipei, and Tokyo, BarTender is available in more than 150 countries through a global network of local partners. Learn more at Seagull Scientific.
About Newcastle Systems, Inc.
In 2005, Newcastle Systems, Inc. was the first U.S. company to introduce mobile powered industrial carts to support supply chain applications, bringing leading-edge efficiencies to the market. The company has continuously pioneered new technology, developing the first swappable lithium battery system for industrial applications in 2016, as well as the most ergonomic mobile carts available. A privately-owned, Massachusetts-based company, it serves some of the largest retailers, manufacturers, and distributors in the world to help to increase supply chain efficiency by consistently doubling employee productivity while reducing costly labeling errors by over 92%.
For more information: https://www.newcastlesys.com/ or email sales@newcastlesys.com.
###
This article was originally published by Cision PRWeb on September 12, 2022.