Seamless, Cordless AC Power - ANYWHERE You Need it!
The PowerPack Mega Series Portable Power System provides quiet, seamless AC power for as long as 12+ hours at a time. This sturdy, compact unit is ideal for powering computers, printers, POS Systems, scales, testers and any other electronic hardware. At the end of your shift or use, simply plug the unit into a standard wall outlet to recharge. Eliminate the need for extension cords or noisy generators!


Housed in a sealed but fully ventilated steel cabinet, the PowerPack Series comes standard with an inverter (modified sine wave, input 12 volts, output 115VAC, 60 Hz), battery, smart charger (20 Amp, with automatic shut off) and fusing system.
Features Include:
Integrated (6) outlet powerstrip

Digital meter with color coded LED displays that provide the status of the battery and confirmation of the power source

Visual and audible low voltage alert

Integrated side handles and cord reel holder

Easy access to slide batteries in and out of cabinet

Optional wheel-base tote system for true portability

Optional bracket system to secure unit to a cart, vehicle, or other surfaces
Typical PowerPack Applications:
Non-powered equipment carts * Outdoor mobile concessions * Remote Display Areas * Areas where power is not available such as far corners of the warehouse, loading docks, remote storage areas, and much more.

PowerPack Series Configurations:
POWER SYSTEM
COMPONENTS
BATTERY
(SEALED LEAD ACID)
INVERTER/
CHARGER PKG
APPROX.
CHARGE TIME
OVERALL
WEIGHT
TYPICAL HARDWARE/
RUN TIME
PowerPack 42
1-Battery System

100 AH

Supports up to 1,000 watts
(UL & CSA Approved)

3-5 hours

120 lbs.

Laptop/tablet & large
printer for 8-10+ hours
PowerPack 45
2-Battery System

200 AH

Supports up to 1,000 watts
(UL & CSA Approved)

8-10 hours

190 lbs.

Desktop PC & large
printer for 8-10+ hours
Please note: All PowerPacks ship LTL
Could You Benefit from a
Portable Power Source?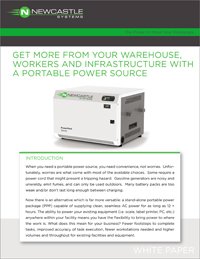 Contact us for more information or call 781-935-3450.