Even with a continuing global pandemic, 2021 turned out to be an excellent year for many retailers. The National Retail Foundation reports that holiday sales hit a record $886.7 billion in 2021, a 14.1% jump from the prior year.
Despite rising inflation, labor shortages, supply chain issues, and the new omicron variant, consumers continued to spend money at record rates and businesses delivered. But many consumers are also returning items post-holiday, which poses challenges for many businesses. When approached correctly, here is how holiday returns can actually benefit your supply chain and business.
Holiday Returns Are Skyrocketing
It's a simple fact that people return online purchases at higher rates than in-store purchases. Consumers are buying goods online at higher rates than at any time in history. They're doing so because it is more convenient, cheaper, and safer during a global health crisis. But they're also sending more stuff back.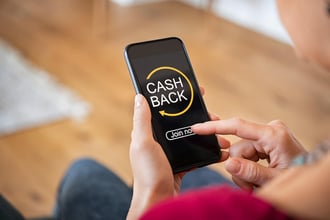 It's all too easy to hit that "Buy" button on a phone or tablet with the knowledge that you can just hit the "Return" button if you're unhappy for any reason. For consumers, this is much easier than having to go back to a store, stand in line, and explain to a clerk why you no longer want the item.
Some news outlets have even called the high rate of online returns a "trillion dollar problem." And the pandemic hasn't helped matters. McKinsey found that 40% of consumers started shopping for gifts early this year due to concerns about delayed shipping and shortages. While this took some of the burdens off of the supply chain, it also increased the chances of returns.
Because people were "hoarding" gifts, many were already planning to make returns. Before the holidays even arrived, forecasts estimated that 42% of shoppers were planning on returning at least some of the gifts they purchased.
And what about gifts received? On average, nearly two-thirds of consumers will return at least one holiday gift they receive for an exchange or refund. Unfortunately, CNN reports that supply chain issues are driving up the cost of those returns for businesses by more than half. Fortunately, there are ways you can add value to your business through efficient holiday returns handling.
How Holiday Returns Can Help Your Supply Chain and Business
Short of not allowing returns, which would be detrimental to your business, you'll have to accept that some level of returns is going to happen. It's simply the price of doing business. But, how can you minimize some of those costs and even benefit your supply chain and overall results? For most businesses, the answer lies in creating the most efficient operation possible, which can involve a combination of several initiatives.
Have Clear Product Listings
Sure, some consumers are going to return products due to things like damage or shipping delays. But you may be able to reduce returns for reasons like poor fit or incompatibility if you have clear product descriptions accompanied by multiple high-quality images and even some videos.
Be Transparent About Your Return Policy
To avoid alienating customers or harming your business due to poor reviews and plummeting retention rates, let customers know about your return policy upfront. Making all sales final isn't the best policy because customers will have legitimate reasons for returns. Further, many customers will avoid purchasing from an online retailer that doesn't take returns. A better strategy is to state your return policy on the checkout page so that the customer has the information before submitting payment.
Offer Consumers Multiple Return Options
One of the best ways to handle holiday returns that can also benefit your supply chain is to offer consumers multiple return options. For example, some businesses also have retail stores that can handle returns, lessening the burden on shipping and warehouse providers. PayPal-owned Happy Returns allows customers of certain online stores to return items to retail centers like Staples, simplifying the returns process and reducing the number of individual packages being sent.
Leverage Technology for Processing Returns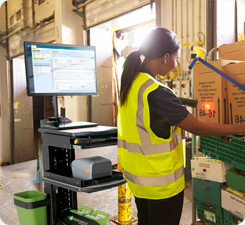 If you do nothing else with your online business, it's a good idea to explore the benefits of leveraging technology throughout the reverse logistics process. The use of solutions like warehouse automation, a warehouse management system (WMS), RFID tags, and mobile powered carts can help workers process orders and returns more efficiently, reduce errors, and lower costs throughout the organization.
Get Goods and Services from More than One Supplier
The reverse logistics process involves a lot of moving parts. There is equipment, storage, transportation, and the replacement of damaged or incorrect products. When your business optimizes its supply chain by using more than one supplier, it can provide better service to customers, experience fewer bottlenecks, and likely accomplish its goals at the best price.
Unlock Value in Your Returns
U.S. shoppers generate roughly 15 million tonnes of carbon emissions each year, and discarded returns are an inevitable part of this equation. Not only can your business be more sustainable, but it can also unlock value in returned products by reconditioning them, reselling them at a discount, or recycling them.
Create Transparency Throughout the Supply Chain
When you optimize your supply chain moving in both directions, it creates a level of transparency that can prevent future issues and provide a better customer experience. The data provided gives you advanced insights to make better business decisions as well as gives your customers the real-time information they want about what's happening with their orders or returns.
It's no surprise that eCommerce activity has exploded over the past several years. Returns and reverse logistics can be expensive processes, and taking shortcuts can harm your business. This means the technology solutions and efficiencies you build into your reverse logistics program are more important than ever.