Warehouses and production facilities with marginal performing order pickers are doomed to fail. An order picking staff must have excellence as they review incoming material or product orders, find those materials and products on the shelves and deliver them to the loading area to be wrapped and put on a delivery truck. Their role may also include more responsibility of wrapping and loading the trucks.
Technology order pickers make use of includes handheld electronic devices, automated machines like pallet jacks, picking carts with or without portable power supplies, voice picking tools or sensors to fulfill the orders.
Order pickers are on their feet all day and must be strong enough to lift boxes during what potentially could be long shifts.
The smallest change in an order picking routine has a major impact shipping costs. There is an abundant amount of information available about productivity, warehouse management systems, erp, software, processes.
If you look more closely, there are also numerous companies with warehouses and forums who are advertising "Order Picking Jobs Here". Companies are also using social media to get the word out. Here is an example on Twitter: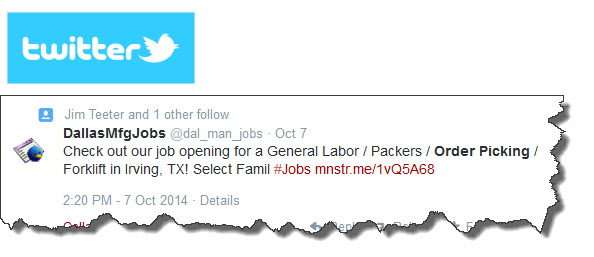 With great order picking staff so difficult to find, here are ten barriers to recruiting the very best:
Uncertain Hours
While it remains important to have a flexible team to accomodate for customer demand, sick employees, turnover and training new staff, a position which says "maybe" in regards to hours is certain to cause a potential candidate to have caution when considering taking a job as an order picker. Taking care of a family is more important than ever to new generations and they also believe that taking care of family includes having quality time.
Anna Liotta is an expert and written a book about how to think differently in the new world where the generation gap is larger than ever in history. Unlocking Generational Codes
Unreasonable Expectations
"Unreasonable" is in they eye of the beholder and imaginations can run wild as rumors can spread with social media. Reputations and stories can discourage people from applying, regardless of the truth. Firm, fair and consistent treatment from strong leaders provides a foundation for current staff to share the truth about expectations and eliminate any rumors about how one minor mistake could cost and employee their job.
Since it is difficult to pin down "unreasonable", we review the feedback on many job websites which also offer employer reviews. Here is a recent post on Glassdoor: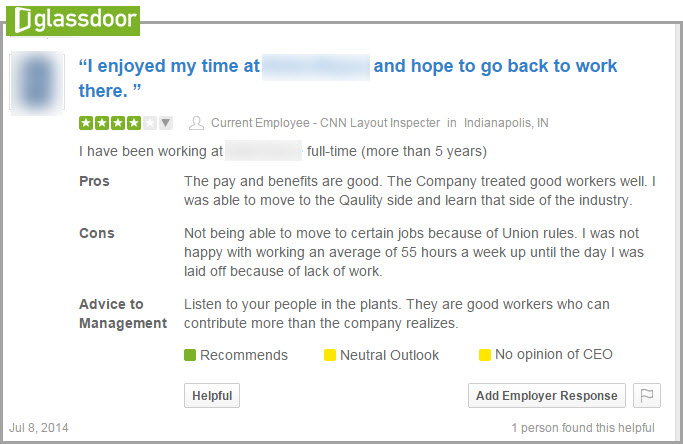 Instead of "Unreasonable Expectations", we might instead consider "Communication". Connection and communication with teams is as important as it has ever been since there are public avenues to rant.

Poor Facility Design
Older warehouses in particular may have an issue. An image of old & worn which then leads to make-do solutions influence order pickers decisions. Fathers, cousins and brothers have told the story of aches and pains. Older facilities were designed without a clue about the requirements of the 21st century. Wikipedia has a list of a large number of local stores and store chains that started between the 1920s and 1950s which became defunct. With such transparency about past companies, will potential candidates scrutinize the opportunity for a job vs an operation which appears not to be first rate?
The Whole Building Design Guide offers extensive resources for warehouse design. For example, here are a couple of diagrams from WBDG:
View detailed storage alternatives
View detailed picking alternatives
"Data Warehouse" is the hot topic and fills the Google pages when searching for "warehouse". It is difficult to sift through options and find resources or consultants to help improve the warehouse facility. Distribution Design focuses on warehouse and distribution space and offers a warehouse operational audit. You might find their services.
Potential Boredom
Order picking tends to be a job with redundancies. It takes a special person with discipline and inner peace to perform the job consistently well. As seen in the example above from GlassDoor, giving order pickers more responsibility and a greater degree of involvement is usually enough to keep them inspired.
Here are ten common questions one resource recommends to ask candidates in an interview:
1. Tell me about yourself.
2. What have you done to improve your knowledge in the last year?
3. Why do you think you would do well as a warehouse order picker?
4. What have you learned from mistakes as a warehouse order picker?
5. What are your greatest weaknesses?
6. What are your career goals as a warehouse order picker?
7. Why are you leaving (or did you leave) your previous position?
8. What kind of salary are you looking for as a warehouse order picker?
9. Do you think you are overqualified to be a warehouse order picker?
10. What are the steps to lift a box safely?
Asking generic questions such as these will not help either the candidate or the company hire great people for the most important role.
The Zen of Warehouse Management offers thoughts on managing a warehouse.
In The Zen of Warehouse Management, authors Pat Kelley and Ron Hounsell provide 20 Zen principles to help management move beyond the numbers to drive creativity and improved performance throughout their operations.

Aggressive Competition
Your competition may dangle proverbial carrots which includes higher wages or benefits.
On Career Builder, there is a range of wages from $8.50/hour to $13.50/hour.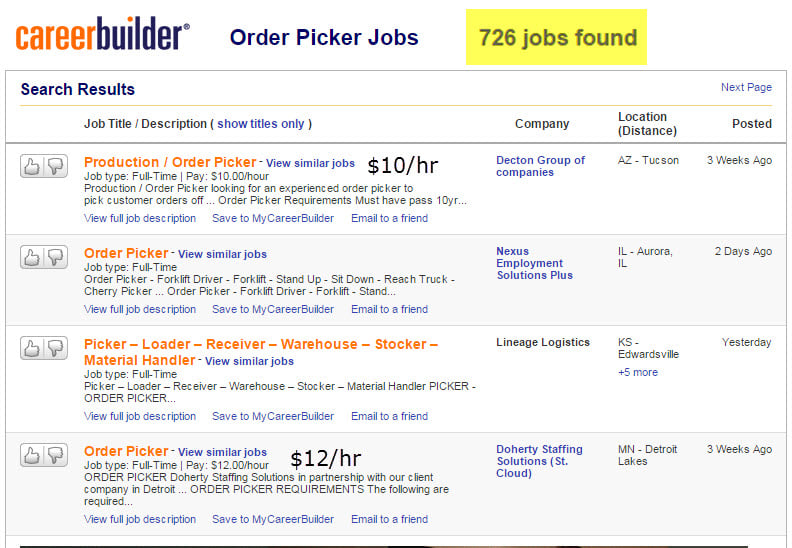 Since order picking jobs can't be compared as apples to apples from company to company, recruiting and job postings can become more confusing than helpful. A $13/hour position may be temporary and in part time vs a role at another company may offer career opportunities. Your competition does not typically put their cards on the table as they recruit.
Success stories, community involvement and press releases which acknowledges accomplishments is something many consider more valuable than money. An aggressive competitor will have a difficult time when the staff is more than a cog.

Training and Development
If everyone starts with a first step, it could be said great order pickers are trained, not found. It may not be a matter of finding order pickers who are Linchpins in an organization. An excellent manager who is committed to training and ensuring employee's success will develop a team of order pickers to peak efficiency and keep the moral high.

Hidden in Plain Sight
Since those who would be happier working as an order picker are so unique, they are most likely quiet, sit in the back and reserved. They are not typically the person who demands attention or is overly talkative. In fact, while they are potentially awesome in many respects, they might have a lack of confidence and so do not apply for a job with an application. "I will never be able to get such a great job as that" can be a thought. Their fear of not getting the job is not an indication of how well they will do the job. Assertiveness, confidence and communication are not necessarily top characteristics of an order picker.
Your difficulty in finding great order pickers may be the result of your own awareness. They are in your church, an employee's relative, volunteering in a group associated with your company. They wish they would be picked and hope you are a super-slueth business leader who will find them in plain sight. While hungry for a job and eager to work for you, their core value or skillset is not one which includes reaching out with an application. If they are considered, they would go through an interview! Oddly enough, there are amazing people who are deathly afraid of interviews.
Recruiting order picking staff is different from other roles because warehouses are closed and proprietary. No one knows their name, they work anonymously as the company gets the credit for making a delivery on time. They feel like a cog and hope to be more. Future candidates new to the role do not understand the job other than on an intellectual level. Creating expectations in advance will have the best candidates quickly respond with "That's for me!"
They might come to you but in a world where social media, transparency and rumors influence the new generations, is it time to think differently about the position so critical to success?
To help you more with order picking, we have a new free guide. You can access the guide here: