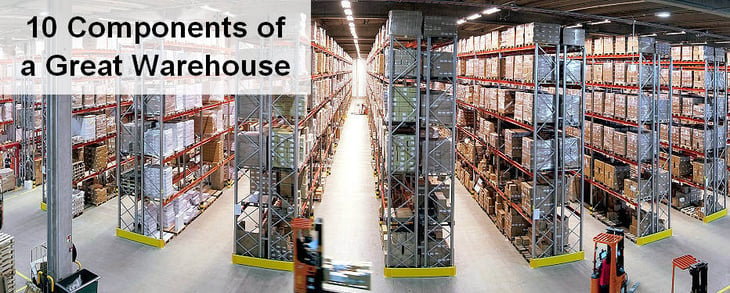 The importance of warehouse operations and the Supply Chain in general cannot be overstated. The efficiency of your operation is key to a successful operation. Yet in every operation there are unexpected variables, delays and surprises. The average operation may become sluggish and inefficient from these variables, but the exceptional operation thrives in all conditions.
The exceptional warehouse knows to account for all unforeseen circumstances, since there are always unforeseen circumstances. We know how to measure great warehouse operations with metrics, but do we know how to detect what makes these operations great?
Here we present 10 principles that are present in every great warehouse operation. This checklist will provide you with a framework for how to get your warehouse from just good to great.
You should be able to answer all the following statements with a "Yes".
1. Staff are competent and adequately trained to carry out their assigned roles.
2. Staff fully understand their roles and responsibilities.
3. The plant and equipment available is safe and fit for purpose.
4. Material is processed safely and efficiently through all stages of the operation.
5. Material is stored safely, appropriately and is easily accessible.
6. Your processes, procedures and work method statements are formally documented.
7. All processes are geared towards eliminating inefficiencies and improving performance.
8. You have a schedule for reviewing the above with a view to continuous improvement.
9. You are aware of both the strengths and weaknesses of your staff and your processes.
10. You have contingency plans should key staff or equipment be unavailable.
Were you able to answer yes to all of the above? If not, not to worry identifying the problem is often the most difficult part. Here are some next steps to improving your operation and identifying more specific problems that your warehouse will need to improve on.
The Map Test
A practical test that is extremely useful is if you give a complete stranger a map of the warehouse and lay down, a material number and a location will they be able to find it? If you're confident they can – try it with your boss. It will illustrate what you've achieved and gives them confidence that you have delivered on your brief.
Focus on the Plan
Planning is your friend. Many managers and companies plan poorly – it sets them up for failure both operationally and financially. To stand out from the crowd, strive to plan well as it will not only make your life easier, it will get you noticed. Why? Because you'll be accomplishing things faster and more effectively than your peers. Whether you are starting to build an operation from scratch or improving/changing an existing operation, initial planning is one of the keys to your success. Without it you will exhaust yourself by trying to achieve everything at once or in an order which is impractical and inefficient. Sometimes you'll simply forget to do something that is critical to the next stage of your project.
This is the time to walk the lay down and warehouse again, putting yourself in place of the truck drivers, forklift operators and warehouse staff who will be seeing the same things you are. Ask yourself: Is it clear? Does it make sense? Will it cause any confusion and possibly hazards? Be pragmatic and don't be afraid to make changes. What was a good idea on paper or in a text book may not always work out when you try to apply it in a practical situation.
Checklist content derived from Warehouse and Laydown 101: A Simple Guide for Designing, Planning and Organisation by Seth Brown