Portable Power Systems - PP Series
Looking for Portable Power Systems to energize your existing computer or printer carts? Newcastle Systems' PP Series Portable Power Packages provide consistent, reliable run-time for virtually any application requiring "portable power".

Application examples include:
Outdoor mobile concession
Non-powered equipment carts
Far corners of the warehouse
Loading docks
Remote storage areas
Areas where power is not available
Remote display areas

Our full line of competitively-priced power packages consist of:
An inverter
Smart charger
Battery
Standard remote battery status meter
Wire harness
A sealed but fully ventilated cabinet (16" x 16" x 12"). Ships LTL.
UL & CSA Approved System
*Please note* The PP Series Power Packages shown on this page are sold as stand-alone portable power systems. The NB Series, PC Series and RC Series Mobile Workstation is provided with its own integrated power package configured to handle your specific application.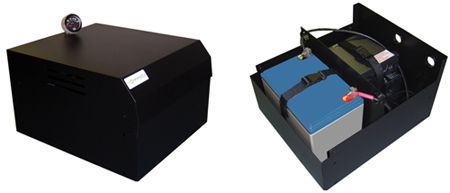 Portable Power System Configurations
View the chart below to determine which stand alone portable power system will work for your requirements.