THE POWERPICK STATION BRINGS POWER TO THE PICKING AISLE.
Bringing Mobile Power to the Order Picking Process - Video
The PowerPick Station™, a powered picking cart
with options for custom configurations
PowerPick Station™ 4 & 6

Picking is the most labor intensive and error prone process in the warehouse. Newcastle offers a NEW solution that is ideal for single line items, batch order picking, manual and RF picking as well as "Pick & Pack".
A Mobile Powered Picking Cart can help you:
Pick, Pack & Label directly to the cart; Improve productivity by more than 50%
Reduce cost per pick
Increase order accuracy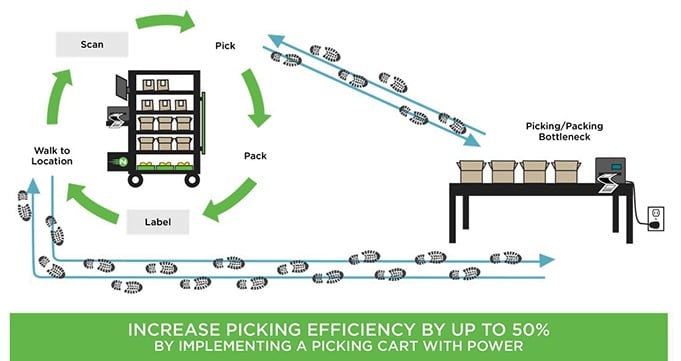 PowerPick Station™ Features Include:
On-board power system ideally suited for small label printer, tablet, and scanner for 8 hours
Lightweight aluminum frame and shelves
4' and 6' versions to accommodate various product/bin sizes and counts
Fully adjustable shelves that lay flat or at a 7o angle
Adjustable, ergonomic front and back handles
Locking swivel casters
Full line of adjustable accessory options for label printer, scanner, tablet, laptop and LCD screen
Pick-to-light option now available


Questions? Feedback?
Call your Regional Sales Manager today - we want to hear from you!