Be The First To Know When the New Power System Launches
---
Soon we will be launching a revolutionary new power system for the warehouse, distribution center and manufacturing plant.
Do you want to be first in line?
Sign-up here to be the first to know when the previews, product availability and first test client testimonials are available.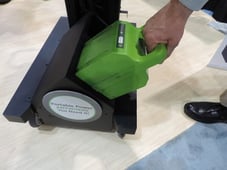 We'll soon be unveiling our new Lithium-based Power System that will radically change the way you bring your portable power into the workplace. By completing the form, we'll make sure you'll get first notice when we can make it available for ordering later this summer.
Here are a few details you get you started:
First Lithium Iron Phosphate swappable power pack designed for industrial environments (only medical grade packs available to date)
Lightweight – only 11 lbs. (vs. 70 lbs.)
Durable – 5 to 7 year battery life or 3,000 cycles (vs. 18 –24 months or 300 cycles)
Fully swappable in a matter of seconds – 24/7 operation
AC Output – no need to source for DC specific hardware
Interchangeable across all cart configurations
Power supply and battery is built with tough plastic casing to help prevent breakage if dropped.
Fool-proof mounting design ensures always mounted correctly and tightly.
Use the form to introduce yourself and we will let you know before the public knows when our new revolutionary power system launches.