3PL Realizes Effectiveness of Mobile Powered Receiving Carts in the Fulfillment Center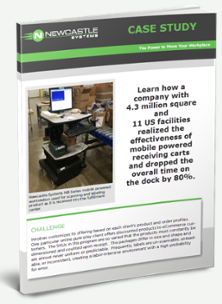 Learn how this great company, with 4.3 million square and 11 US facilities, realized the effectiveness of mobile powered receiving carts and dropped the overall time on the dock by 80%.
CHALLENGE
Innotrac customizes its offering based on each client's product and order profiles. One particular online pure-play client offers discounted products to eCommerce customers. The SKUs in this program are so varied that the products must constantly be dimensioned and counted upon receipt. The packages differ in size and shape and are almost never uniform or predictable. Frequently, labels are un-scannable, unreadable, or inconsistent, creating a labor-intensive environment with a high probability for error.
Use the form to introduce yourself and get immediate access to the case study.