Soon enough, old picking carts will be thought of just as powerless horse and buggies, a part of history. It might be difficult to imagine. When horse and buggies filled the streets, no one could imagine that horses would be off to pasture and horseless carriages would be the method of travel. Our latest workstation, the powered picking cart, is rolling off the assembly line and destined to keep the wasted steps of pickers to a minimum.
No cords, power to last and by the end of the work shift, staff will be more refreshed and looking forward to the next day.
While you may have seen it recently at PROMAT 2015, below are details of our new picking cart.
PowerPick Station™ Features Include:
On-board power system ideally suited for small label printer, tablet, and scanner for 8 hours
Lightweight aluminum frame and shelves
4' and 6' versions to accommodate various product/bin sizes and counts
Fully adjustable shelves that lay flat or at a 7

o

angle
Adjustable, ergonomic rubber coated front and back handles
Locking swivel casters
Multiple accessory options for label printer, scanner, tablet, laptop and LCD screen
Accessories can be easily adjusted to configure the station to suit the application
DOWNLOAD PowerPick Station™ DATASHEET HERE
Bringing Mobile Power
to the Order Picking Process - Watch the Video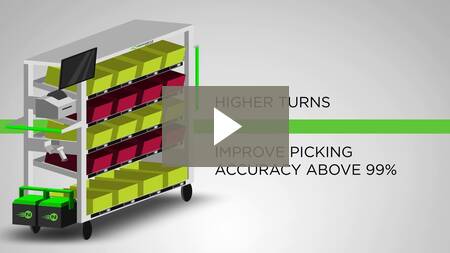 Take a look at your picking carts and imagine portable power attached to the cart. Are you happy with your horse and buggy or are you interested in improving efficiency, customer service speed, accuracy and employee morale?
To consider why so many others are investing in new technology, please download our most recent ebook: