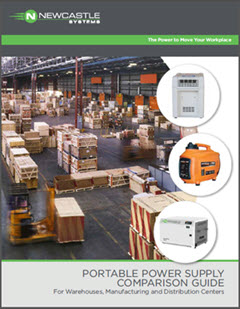 Newcastle Systems, whose mission is to provide the best portable power supply options for improving workplace efficiency and profits, today has published the "Portable Power Supply Comparison Guide" which is available as a free download for anyone interested in developing a more mobile workplace.
Newcastle Systems, a leader in mobile power solutions for the distribution and logistics industries, has developed and published a free eBook with an in-depth comparison chart for warehouse and operations professionals and procurement teams to easily see the range of options, benefits advantages and disadvantages to a wide range of mobile power options that are capable of serving the industry.
With mobile power now becoming an area of major potential speed and efficiency improvements in the back-end of the business, choices have proliferated in recent years but the options in the market for the new user can be confusing. Depending on your actual usage profile and volume of through put on your equipment, the requirements for each business, or even each facility of a business, vary wildly.
Christine Wheeler, Marketing Director for Newcastle Systems, noted "It is our responsibility to our customers to ensure we are the experts on what is available in the marketplace and to ensure we are providing our customers with the mobile solutions that meet their needs. Sharing the same information we learn that better informs the overall market is part of our 'customer-first' commitment."
The guide shares not only the key data points in two tiers of products, but includes transparency into the methods used to measure and compare products that often seem very different and often appear to be made for very different purposes.