Please join as at PROMAT 2015 and learn first hand how to increase efficiency and productivity.

New Products You Must See When You Visit
Newcastle Systems at Booth #4168


Order Picking Workstations
Developed specifically to maximize performance and accuracy of order picking.
Features Include:
On-board power system ideally suited for small label printer, tablet, and scanner for 8 hours

Lightweight aluminum frame and shelves 4' and 6' versions to accommodate various product/bin sizes and counts

Fully adjustable shelves that lay flat or at a 7 degree angle
---
Portable PowerPack Ultra Series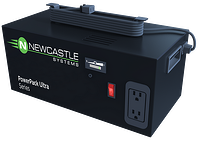 A lightweight, compact portable power system that is ideal for powering a laptop or small barcode printer for 6-8+ hours.
Quiet, Cordless AC Power - ANYWHERE You Need it!
The NEW & IMPROVED PowerPack Ultra Series 2.6 Portable Power System provides seamless AC power for 6-8+ hours at a time (depending on laptop model or number of labels printed). This lightweight, compact unit is ideal for powering a laptop or small barcode printer.
At ProMat, you can:
Discover the latest innovations from over 800 solution providers
Learn the latest ideas driving productivity in ProMat keynotes and in more than 100 educational sessions
Build strong business partnerships with suppliers
Network with your peers
ProMat 2015 is the one show where you will see in person, in action the best solutions and innovations the industry has to offer and meet the leading providers face-to-face. There is no cost to attend the exhibits and conference sessions. Register Today!
Where:
McCormick Place South Chicago
When:
Mon. 3/23, 10 AM-5 PM
Tue. 3/24, 10 AM-5 PM
Wed. 3/25, 10 AM-5 PM
Thu. 3/26, 10 AM-3 PM
ProMat puts innovation at your fingertips. See the latest, greatest manufacturing and supply chain solutions at ProMat 2015.
Be sure to visit us at Booth #4168