Holiday consumer demand during the holidays can drive a retailers crazy. In 2013, distributors and carriers were overwhelmed. When merchandisers and carriers both become overwhelmed due to demand and fulfillment management, millions of customers went to bed on Dec. 24 still waiting for gifts with "guaranteed" for on-time delivery by the following day.
The holidays challenge the best analysts and forecasters as consumer demand and shopping behavior in the omni-channel retail environment seems almost impossible. With perennial unknowns like weather and the economy, retail merchants are remembering the debacle of last year and wonder if last year's disappointment with online fulfillment performance will impact shopping patterns this year.
A recent report from the CFI Group, sponsored by eBay Enterprises, offers insights into the issues facing merchants and how to ensure success with holidays already looming.
The report shows why it is important to re-think how products are distributed in a world where consumers are expecting service online and immediate gratification. The report includes data about customer expectations and behavior:
"When online holiday purchases arrive late, customer loyalty hangs in the balance. While only 11% of consumrs call a late holiday purchase grounds for refusing to shop at a particular brand again, a full 46% say late delivery will cause them to look somewhere else first."
"Customers say they are 26% more likely to reach out to retailers during the holidays, and more than half of that outreach takes place by phone."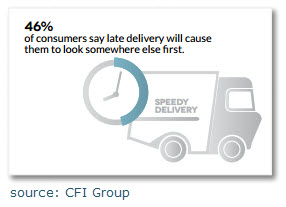 "The most frequent reason cited for contacting customer service during the holidays is to ask shipping or delivery questions (42%), more than even product information inquiries (38%)."
"56% of shopper's indicate they're concerned about orders being cancelled or back-ordered during the holiday season."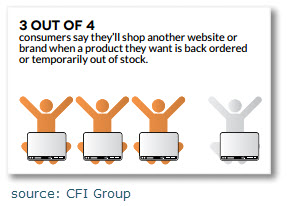 "Three out of four consumers will shop another website or brand when a product they want is back ordered or temporarily out of stock."
Other sources cite customer's expectations and expected trends:
According to National Retail Federation, the holiday season can account for anywhere from 20-40 percent of a retailer's annual sales, and accounts for approximately 20 percent of total industry annual sales. Failure to deliver during the holidays impacts business in a big way.
Deloitte's research shows 47% of holiday shoppers expect free returns. If the Deloitte study proves to be true, more retailers will move to "free returns" which puts an intense pressure on warehouses and distribution centers.
According to State of Retailing Online Survey, mobile purchases will continue to grow with one in every five purchases happening via mobile on the web.
If Forrester Research Inc. is right, "Free Shipping" may not be the trend for retailers. Forrester forecasts an increase in shipping fees for e-retailers. Between the U.S. Postal Service's financial woes and the shipping hiccups that delayed deliveries during the 2013 holiday season. "Surge pricing will become more likely after 2013's well-publicized shipping disappointments during Christmas week," the report says.
UPS gets serious
This year UPS is taking delivery seriously. To handle the increased volume, UPS has invested in new infrastructure (including new equipment for 300 sorting centers and 15,000 additional vehicles), retooled volume forecasting, and enhanced communications. And for the first time, UPS will make pickups and deliveries of air and ground services on Black Friday, Nov. 28.
To gear up your business for the busy season, here are six invaluable tips from Bala Ganesh, UPS retail segment marketing director, for a smooth holiday shipping season:
1. Plan your discounts and specials
2. Sync with your supply chain
3. Think about your shipping strategy
4. Promote your returns policy
5. Make sure your technology is up to the task. (Newcastle Systems can help you with this.)
6. Plan for staffing and training
Retail stores will evolve into shippers:
Retailers with stores can potentially keep rising shipping costs at bay by fulfilling from stores or expanding their in-store pick up programs.
"More retailers are taking advantage of their locations and inventory to ship from stores," Bala Ganesh, UPS retail segment marketing director says. "We work with retailers to optimize store operations with processes, technology and training that make the shipping process as simple and seamless as possible.
Retailers will be rethinking the layout and and workflow in their operations. If the retail brick and mortar are also acting as a pseudo-distribution center, new equipment and training will be required. (Adding portable powerpacks will eliminate the need for long extension cords)
For every product shipped there are people in warehouses and distribution centers challenging themselves to walk faster and meet the deadlines. What many are not aware of is the latest technology with portable power and a stand up workstation can be turned into a mobile workstation.
We can help:
We offer a unique opportunity to have an immediate impact on any operation by eliminating wasted steps. The benefit of course is an immediate improvement in efficiency so that meeting customer demands during the holidays is not so daunting.
The NEW PowerPack Ultra Series Portable Power System provides seamless AC power for 6-8 hours at a time (depending on laptop model or number of labels printed). This lightweight, compact unit is ideal for powering a laptop or small barcode printer. At the end of use, simply plug the unit into a standard wall outlet to recharge. Eliminate the need for hazardous extension.
Applications include distribution centers, retail stores, manufacturing, medial facilities and warehouses.
Get access to the information about the new PowerPack Ultra Series here and learn how you can prepare your workplace for the holidays by creating mobile workstations: