The NEW NB Series SLIM
is now available.
The NB Series SLIM has same great features as the standard NB Series Mobile Powered Workstations, plus the new NB Series SLIM is only 18" wide!
NB Series SLIM workstations eliminate unnecessary foot travel and paperwork. Instead of walking back and forth from a deskbound computer to printers and other devices used in tasks such as inventory management, process control, on-demand label printing, product testing, order picking, cross-docking, weighing, scanning, etc., all necessary equipment can be brought to where the work is taking place. An operator can have real-time access to WMS, ERP, and automated data collection.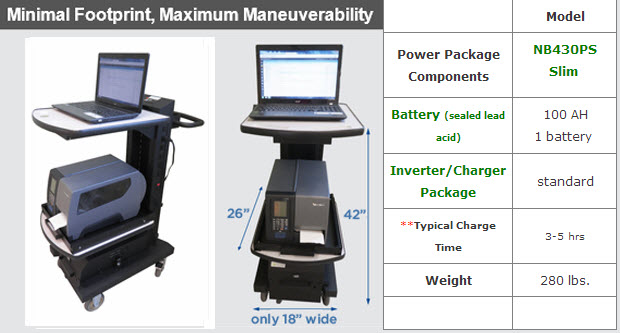 Learn more about the NB Series SLIM workstation cart with power here.
Designed with our customers in mind:
Built for narrow-aisle configurations without compromising standard NB Series capacity to carry a full workstation. The new SLIM model offers compelling benefits:
18" total width
Lighter than standard carts
Power Swap configuration available
Compatible with other accessories
Power Swap Compatible:
The NB Series SLIM also allows for use of our innovative Power Swap power packs. Designed to keep your team on the go, the Power Swap can be changed in 30 seconds or less, meaning no downtime for your workstation.

Watch the video that demonstrates the ease in swapping a new power pack: