In an era of high-tech classrooms and smart buildings, it sometimes seems hard to keep up with technology and its applications for educators.
For many institutions, the question is about how technology can keep up with the ever-evolving classroom and the educators.
Need to bring a projector into a space that normally doesn't have one? Or perhaps need a way for your labs or classrooms to be able to re-arrange their workstations easily? Or maybe a mobile POS for your caterers or bookstore at campus events or sports events? There is technology now available to let you take your workstations wherever they are needed.
Low-Tech Rooms - Take your projector and laptop anywhere you have a white wall. Our Mobile Workplace Systems make it easy to turn an older classroom into a high-tech one.
Sporting and Other Campus Events - whether you need a temporary POS station for selling products or a check-in location for freshman orientation, a Mobile Workplace System lets you set up anywhere.
Projector carts have come a long way since the days of transparencies. Today's projector carts can be used in any number of ways, from speeches and presentations to operating a small business on the go.
If you're looking to deliver a speech or presentation to your colleagues or an organization, a projector cart with a power pack can make it possible by supporting a not only the projector, but also any audio or video equipment you may need. With the projector cart's integrated power strip, there are no cords, so you can focus on the topic of conversation without having to watch your step.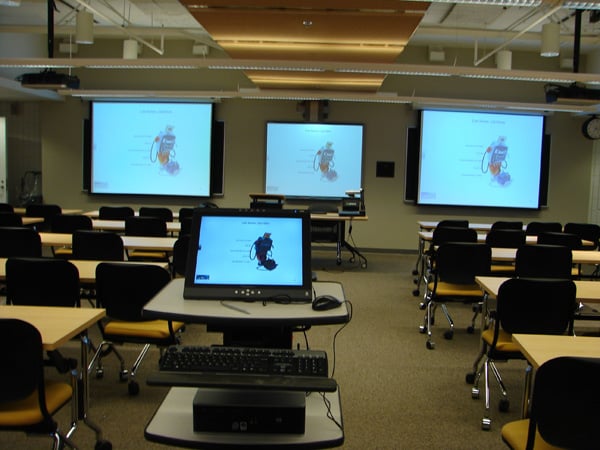 Montreal-based university uses the NB Series Workstations in several classrooms to power AV equipment for in-class presentations.

Projector carts can also be used as mobile workstations, and when the carts are equipped with a power pack can power several devices such as a computers, cash registers, phones and more for up to 12 hours. Mobile works stations are one of the most efficient ways to bring a small business to the public. The shelves of a projector cart provide storage and are perfect for hauling equipment and inventory to and from your desired location.

If you are looking to enhance your presentation, a projector cart with a power pack is the best way to achieve your objectives, ensure it goes off without a hitch.