One of the best ways to increase employee productivity is to streamline their processes with a rolling printer stand and provide all of their job tools in one, easily accessible space. In many industries, employees lose productivity while they travel from one work station to another performing job tasks. It is common for a worker's job tools, such as reference materials, printer, computer and merchandise to be located in different areas of their facility.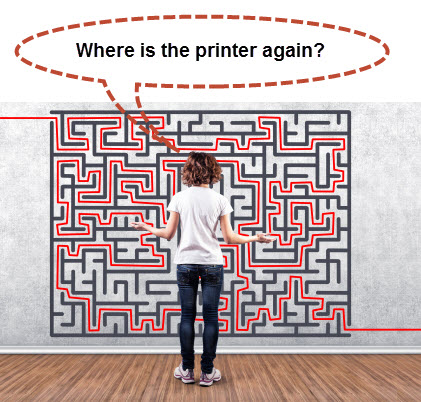 The old way of thinking: Printer stands which are stuck in a neutral corner where employees can "run to the printer". Shared printer workspaces now become one of the most inefficient systems in the workplace today. While the shared printer in a corner was once a viable solution, new technology is now available where tailor made workstations with portable power create more flexibility and prove to be much more efficient. Rolling printer stands with portable power is the next step in the evolution of office, retail or warehouse efficiency.
Newcastle Systems continues to pioneer ways for businesses to operate more efficiently as they produce workstations which are portable that greatly increase your employees' efficiency.
Businesses that convert to mobile computer cart workstations report higher capacities, reduced infrastructure costs, and more productive employees. See how our integrated, modular mobile computer carts workplace systems can provide immediate benefits.
More than just a place to store equipment, these innovative, mobile, space saving printer stands provide:
Power Source – The onboard rechargeable battery provides a power source for multiple devices for 8-12 hours of normal use without the need for extension cords.
Mobility – Carried by 6" rubber casters, our stands measures just 26" wide and can easily navigate narrow aisles. A wheel lock ensures safety and stability when printer stands are not in motion. The printer cart
Versatile – With a weight capacity of 500 lbs. and adjustable shelving, the stands easily adapt to each user's unique needs.
Personalization – Accessories are available to address multiple business needs including:
Flat screen monitor mount
Bubble Wrap holder
Keyboard holder
Binder holder
Drawers
Additional shelves
Scanner / tool holders
Tablet / iPad holder
Mobile, powered printer stands are ideal in many applications including factory work, warehousing and retail point-of-sales transactions. The stands allow employees to have access to their computers and other tools simultaneously. Transitioning to a mobile PC cart will eliminate the time and productivity lost when an employee has to travel to multiple areas to perform their job tasks.
Here is an example of one of our more popular workstations:
To learn more about how printer stands or custom workstations can address the needs of your business please contact us.


If you would like to begin the process of configuring your own workstation, start here: