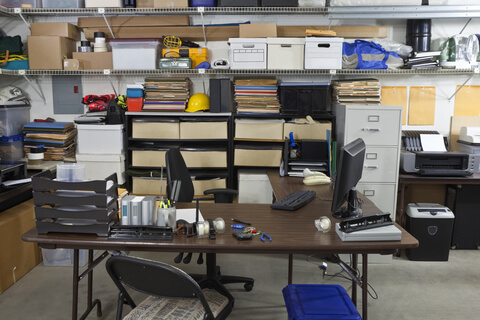 Since the days when Dilbert first pointed it out, employees have been keen to avoid the trap of the static cubicle. It is now also clear, that greater mobility in our workstations through use of a portable desk, offers serious business benefits too. No wonder then that Amazon, the world's largest online retailer, has already implemented the portable desk concept, through the use of mobile workplace cart solutions.
A portable desk incorporates all your tools, such as PC, label printer, and barcode scanner, meaning team members can be productive no matter where they are. The unit's integrated power supply supports several devices for up to 12 hours. You can also enjoy:
Lower infrastructure costs - Mobile powered wireless workstations are significantly cheaper than dedicated office space. Equipment can also be shared more effectively, for when jobs move or shifts change.
Increased productivity - Having the workstation at the point of activity eliminates unnecessary foot travel. This works well in a retail environment in keeping sales personnel on the shop floor. It also supports lean manufacturing principles, such as increased operational flexibility.
Improved accuracy - With the mobile workstation at your fingertips on your portable desk, the potential for mistakes is significantly reduced. Think how important this is in the healthcare industry for example, where this type of technology has really taken off.
Elevated workplace safety - With an integrated power package configured to your needs, you can remove the dreaded extension cord from your workplace environment. So not just a more professional workspace, but also less potential for trips and slips.
The portable desk concept has become extremely popular across a range of industries including retail, with the obvious applications of product and shelf edge labeling and queue busting. Warehouse and distribution centers have also benefitted from implementing the portable desk, using it to generate labels, update inventory, scan barcodes and ship and receive stock.
A number of different sizes of mobile workstation are available, from compact, to heavy duty, with specific models available for healthcare settings. All of the portable desk range is mobile, modular and offers the opportunity to add accessories such as an adjustable keyboard shelf, and holders for display screens, tablets, binders and scanners.
Arthur C. Clarke, the world famous science fiction writer once said: "Any sufficiently advanced technology is indistinguishable from magic."
The advanced technology now available in a portable desk, could indeed seem like magic solution to improve productivity and profit for your workplace. Take another look at your desks, computer stands, printer stands and ask yourself: "How much will productivity improve if I added wheels and power?"
Download the white paper: "Optimize Your Wireless Facility":