Innovative technology is a boon to any entrepreneur, manager, or business professional. But important equipment like projectors, laptops, or speakers must be stored and utilized well for them to positively affect business productivity.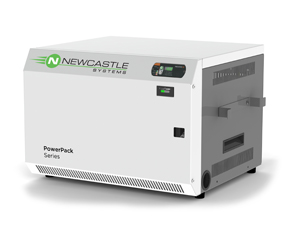 First and foremost, a portable laptop desk with a PowerPack provides shelving for storage, which protects valuable equipment from damage. Always consider that devices generate heat, and can overheat. Storing them properly (in a climate-controlled space) is vital to the efficiency and productivity of your technological equipment. The desk provides a safe and stable storage space for valuable office equipment.
A portable laptop desk makes equipment portable as well. This can add significant advantages to your business.
For instance, did you ever had the perfect PowerPoint presentation created on a familiar computer, only to face frustrations during the actual presentation? Software compatibility or problems saving files onto movable drives are just two challenges possible in this scenario.
What if you could bring your preferred technological equipment (laptop, projector, speakers) with you to an important presentation?
It's possible with a portable laptop desk and PowerPack. The desk easily wheels to your next destination. You don't have to hold your breath to see if the presentation you made at home looks the same in front of a major board meeting, a huge relief in a high-pressure business meeting.
These are significant impacts, which can ultimately make or break a business.
An overview of the portable laptop desk with a PowerPack demonstrates how advantageous this workstation can be for a business. The station powers multiple devices for up to 12 hours.
The portable laptop desk with PowerPack can be configured for:
up to 300 AH battery

up to 1250 watt inverter

up to 30 amp charger
Other notable features of the portable laptop desk are:
adjustable shelves (Top shelf has a 200-pound capacity, and can be adjusted to one of three different heights. The middle shelf has a 100-pound capacity and can also be adjusted to different heights.)

an integrated power strip

a standard battery volt meter

optional inverter/charger status meter
Click here to learn more about PowerPack Series Portable Power System.
Newcastle Systems proudly matches customers with innovative business solutions. Contact us today to begin planning the perfect mobile workstation to match your professional needs.
Download Our NEW Product Overview here