Improving the workplace for better efficiencies and profit might be as easy as integrating a rolling computer workstation with power into the workplace.
It's not complicated rocket science to know how to gain the best advantage of a computer workstation on wheels. You can calculate your return on investment here. Yours might be about a warehouse but could also be in a factory, retail store, parking garage, fair, church or any where there is a long walk to power.
The profit and loss report or balance statement can tell you much but when many have begun to look seriously at the amount of time wasted walking back and forth, there is a big realization about loss of time by employees (who prefer to offer value than waste time).
Take for example workers with the average wage of $22 per hour and working a 40 hour week. During any hour the employees will spend 15 minutes walking to and from a printer to gather a report, label, sticker ... or any needed documentation. The example below from the ROI calculator shows that the annual savings would be $57,200.00 from saving steps to and from the printer or computer area.
Review the numbers and note how improving the workplace with a rolling computer workstation would pay off in under 90 days.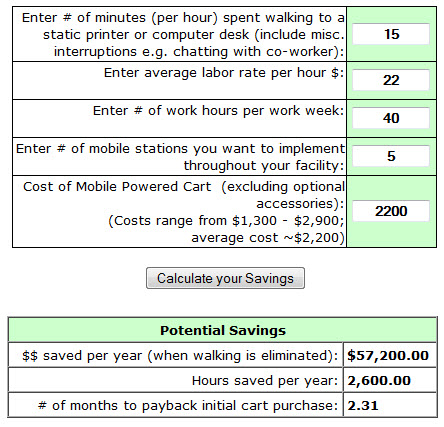 If this has struck a chord and you are now considering new possibilities about how to create more profit, then you will want to move to the next step and configure your own workstation.
The team here at Newcastle Systems is passionate about helping organizations of all sizes overcome the old problems of productivity with new technology. Please contact us to request a quote here.