The military reduces steps and improves efficiency by using mobile carts with portable power packages. Whether it be in the field, warehouses, inventory or distribution, the military must stay flexible and mobile.
According to the NAO, National Aerospace Organization, there are 175 Air Force and National Guard Air Bases, 21 Navy and Marine Corps Air Stations and 7 Army Air Fields in the US. With approximately 1.45 million people serving in the US Military, looking deeper into how to help the military control spending and create more efficiencies is part of our mission. Mobile powered carts are an excellent addition to the any organization, including those who serve and protect our nation.
When the US Military needs quality products to support its logistics operations Newcastle Systems has the heavy duty Workstation and Mobile Power solutions to keep the facilities moving faster, longer and with more accuracy.
The changing global security landscape and worsening fiscal outlook demand significant adjustments to national security strategy and budgeting, according to an extensive, year-long study released today by Stimson: A New US Defense Strategy for a New Era.
The report is the work of an independent task force of experts - the "Defense Advisory Committee" - convened by Stimson to explore the question of US defense planning and spending in light of looming defense cuts that are part of the Fiscal Cliff.
The report highlights ten operating principles that emphasize relying on smaller military units that can be based in the United States and rotated quickly to more austere bases around the world; rebalancing US forces to focus on Asia rather than Europe; and strengthening technological and scientific assets to ensure that the United States maintains its technological edge against all other nations.
Key recommendations in the report includes how the US should implement long-standing proposals. One of which points specifically to utilizing manpower more efficiently:

The new mobile powered cart technology Newcastle Systems manufactures can help the military achieve the goal of improving efficiencies.
Here is a small gallery of examples of our Mobile Workplace Systems in action for military:
There is a new, far more versatile alternative now for Portable Power supplies.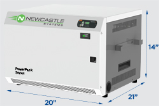 The Newcastle Systems Portable Power Package (PPP) supplies clean, seamless AC power for as long as 12 + hours.
It is a stand-alone, portable power package housed in a sealed but ventilated steel cabinet. Consisting of a battery, charger, inverter, battery-status meter, and wire harness, it can be used outdoors as well as indoors — no cords, no fumes, no worries.
If you are interested in Newcastle Systems full Product Profile Brochure, click here for an immediate download: