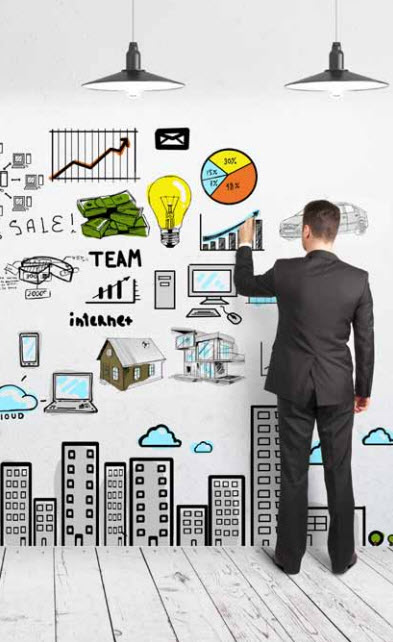 …you can't afford to not implement solutions for your warehouse challenges. Whatever the particular challenge (still) is at your nationwide fulfillment centers, your one million sq. ft warehouse, your 24/7 distribution center, or your manufacturing plant, state-of-the-art solutions are available • to streamline your processes, • to help you employees accomplish the most each shift, and • to ensure exceptional, on-time customer service. No matter what your facility's particular needs may be, there are viable solutions available via the implementation of customized power workstations.
In order for your company's employees to perform their jobs well and to be as productive as possible, they have to be equipped with the best tools. While you may have employed a team of exceptional workers with a great work ethic and a commitment to excellence, if they don't have the proper equipment to do their jobs as efficiently, correctly, and easily as possible, they'll never be able to achieve the same level of productivity as they would if they were armored with the right state-of-the-art gear.
Creating wireless mobile workstations which can be both effortlessly wheeled across warehouse floors and easily maneuvered through snug aisle spaces instantly increases the amount of work your corporation's warehouse team can get done during any given shift. Instead of continuing to have your distribution personnel unintentionally continue to waste minutes (that quickly add up to hours) by frequently ambling back and forth to a stationary scale, a stationary printer, and a stationary computer in some corner of the space, they can instead conveniently have mini mobile-powered workstations right within arm's reach.
With a mobile central command center, your employees have everything they need to get their jobs done – right at their fingertips. As your employees move to different areas throughout the warehouse, building, or office, they can bring their own assigned stand-up workstations with them. In addition, they have instant access to real time data and sensitive information, furthering eliminating all the additional time previously spent asking someone else to look something up on a computer or having to wait until a colleague is done using the one stationary computer before they can access it to complete their project.
Quite naturally, productivity is instantly increased. More gets accomplished and all that downtime previously spent traveling by foot and waiting to use an available piece of equipment gets completely eliminated. Productivity just doesn't suddenly happen in the workplace. While a commitment to excellence and a focused work effort contribute to it, productivity also requires intelligent planning to create the best work environment, equipped with the best tools.
By increasing productivity and eliminating the time and labor spent walking from one location a warehouse to a static scale, printer, or computer, you can save thousands of dollars, thousands of labor hours, and thousands of moments of frustration per year; you can experience:
an increase in receiving volume up to 65%;

a reduction in labor costs by $4,000 per operator, and

an elimination of overtime by up to 75%.
"An ROI of 40% would be very good; however the benchmark generally is 10%, which is the historic rate of return of the stock market. Use simple intuition. If you're paying 8% interest to the bank, you have to be making more than 8%. It has to be greater than your cost of capital." - John Longo, Clinical Associate Professor at Rutgers Business School
Whether your particular situation is similar to those Newcastle Systems customers experienced, or it's a one-of-a-kind challenge, there is an affordable, doable, and easy solution.
Download our new ebook:
"9 Reasons Why You Can't Afford
NOT to Invest in Mobile Power Solutions for Your Distribution Center"
Inside you'll find:
How to Reduce Unnecessary Downtime

Ways to Increase Productivity

A Return on Investment

Which Customized Solutions are Necessary

Methods to Improve Your Workflow