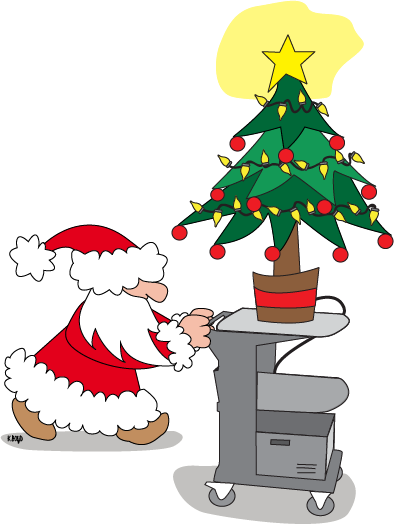 Warehouse managers are required to wear many hats, including managing an order picking team. Since order picking is such a big part of an efficient shipping process, order pickers with a standard of excellence are appreciated. Those with excellence are not only appreciated by the management but also by their peers and yes... even Santa.
Since it is the season and Santa also has his team of order pickers working diligently to be sure gifts are delivered on time, we want to share ways order pickers optimize their effectiveness to stay on Santa's "nice list.
Here are 10 ways your team of order pickers earn and keep their spot on Santa's 'Nice List'.
1. Makes or exceeds rate
At the end of the day, results matter the most. The order picker who is doing a phenomenal job at keeping up with or beating their designated pick rate has earned some positive attention.
2. Goes above and beyond
You and your team know that it is not the job of an order picker to pick up trash -- or do anything else outside of their job description. As a result, many of your order pickers may simply run over trash with their pick carts, or resist doing anything that isn't a part of their typical job duties. Keep an eye out for order pickers who are going above and beyond what they have to do -- instead of harping about something not being "their job" -- and put a check in the nice column.
3. Minimizes wasteful distractions
According to research done by CNN Money, workers waste an average of 2.09 hours per day on unproductive activities such as socializing. The order pickers who refrain from activities such as this are well on their way towards earning their spot on Santa's nice list.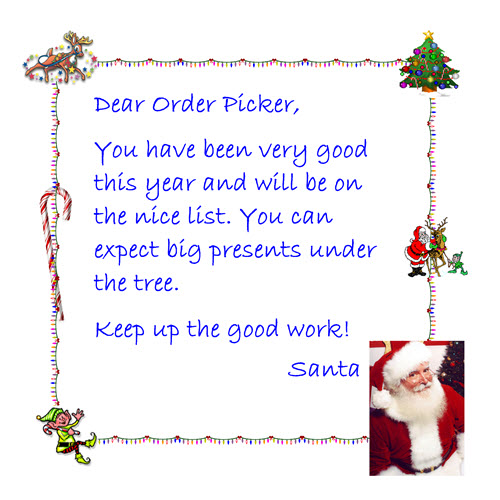 4. Doesn't complain
Constructive criticism and complaining are two different things. Arbitrary complaints will waste time and reduce the productivity of the work environment as a whole -- especially when it starts to affect the morale of your entire picking team. Constructive criticism, on the other hand, involves making valid points about things that can be improved.
There can be a lot of small things that people could choose complain about, so those who refrain from doing this deserve kudos.
5. Displays a positive attitude
Positivity in any work environment will boost morale and improve the overall productivity therein. An order picker with a positive attitude can have an especially favorable effect on not only their own productivity, but also that of your entire picking team.

Your order pickers are not the only ones who need to take steps to improve their efficiency. Here is where they can use a little help:
6. Identify trouble areas
Find out where your picker's weaknesses lie and address those areas. This could involve anything from their workplace behavior to their approach to the job.
7. Continuously train your pickers
Keep your order picking team well-trained to help them mintain their ability to remain productive. In addition to introducing them to new procedures and techniques, you should consistently refresh their minds about old ones. This will help them to develop nice list-worthy habits -- instead of developing bad ones.
8. Choose the right pick carts
The type of pick carts that your team use have have a huge impact on the overall efficiency of your team. As such, you need to make sure that the pick carts that you choose allow for quick, efficient storage.
9. Use positive reinforcement
Each member of your order picking team gets paid to do a job and there is no question about the expectation. However, positive reinforcement is a critical component to effective managment which dramatically alters how an order picking team works. According to a decade-long study of employee productivity based on mood which was conducted by the New York Times -- people work harder when they're happy; positive reinforcements helps to improve workers' happiness.
10. Cut out the static computer terminals
The location of a stand up computer workstation can be a barrier to workplace efficiency. Instead, invest in mobile computer carts with portable power which allow you to immediately increase the productivity of your entire order picking team.
What did we miss? Do you have other things you know about Santa's "Nice List"? Be sure to share in a comment below.
If you want to know as much as Santa about order picking, you will want to download our special order picking guide: